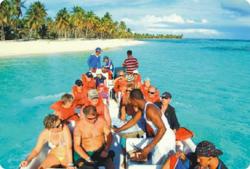 Hurricane 'Jeanne' resulted in severe inconveniences to the east coast, with major damage and flooding.
Dominican Republic (PRWEB) August 03, 2012
SEO Service Group's new client, SeavisTours, offers travelers a unique experience when they are in the Dominican Republic. Travelers enjoy a range of services including their renowned Punta Cana excursions. This year, they are offering a live webcam, broadcasting the marina of Bayahibe. This seasons first tropical storm, Ernesto, is expected to pass south of the Dominican Republic this Saturday and Sunday. The influences of the storm should be visible on the webcam.
SeavisTours, has experienced some of Dominican Republic's strongest storms and hurricanes since they opened their doors in 1998. A company spokesperson is quoted as saying, "The last hurricanes to hit the Dominican Republic were 'David' in August, 1979; 'Georges' in September, 1998; and in September 2004, Hurricane 'Jeanne' resulted in severe inconveniences to the east coast, with major damage and flooding."
Keeping true to offering a truly unique experience to travelers and storm watchers, SeavisTours is happy to broadcast this year's first storm to pass the area, Ernesto, to viewers all over the world. "The risk of experiencing a hurricane during your vacation is very rare. However, each year tropical storms do pass the island, this can cause floods and people on the island might not see the sun for a few days. The sea might be rough and staying on the beach might be not too pleasant. An average Atlantic hurricane season has 10 - 11 named storms, half a dozen hurricanes, and 2 major hurricanes." stated a company employee.
For more information about SeavisTours Punta Cana tours and the live viewing of the year's first storm, please visit http://www.seavisbayahibe.com.
About SeavisTours
SeavisTours has been providing travelers in the Dominican Republic, Punta Cana, Bayahibe and Saona with a full range of services, including airport transfers, hotel reservations and excursions since 1999. SeavisTours sets themselves apart from other companies by letting their customers experience the true culture of the Dominican Republic and bringing guests to places big operators won't take them.