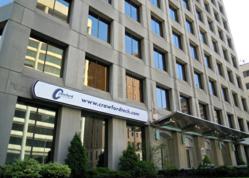 CrawfordTech was the only solution available...they were the best choice for the job.
London, UK (PRWEB) August 07, 2012
In a new case study released today, German service provider, Gesellschaft für Innovative Personalwirtschaftssysteme mbH (GIP), credits Crawford Technologies' award-winning solutions with helping their organization make great strides in becoming more environmentally friendly.
Through using CrawfordTech's PRO AFP to PDF/A transforms, GIP has already been able to eliminate the need to print up to 750 million pages. They are now well on their way to increasing those numbers to a staggering 2 billion pages annually. In short, this print reduction would save the need to cut down more than 25,000 trees.
"Knowing that our software is impacting the environment is such a major positive way through just one of our customers is very exciting to hear," said Ernie Crawford, President of Crawford Technologies.
"When one considers that there are over 700 organizations around the world using our software and also working towards becoming more environmentally friendly, I feel a great sense of accomplishment in the power of our products."
Information about this environmental impact and more can be found in a new case study just released by GIP and Crawford Technologies. The case study explores the many areas CrawfordTech was able to help GIP, such as in helping to select the right archive standard and reducing software and maintenance costs at the 15 data centers they service.
"CrawfordTech was the only solution available that was able to achieve what GIP required from a technical perspective. They were the best choice for the job," said Rasterpunkt's Managing Director, Richard Mayer. Rasterpunkt was the consultant who guided and directed GIP in working with Crawford Technologies.
The full version of this case study can be found at http://www.crawfordtech.com/.
Crawford Technologies will be available for meetings at various events in Europe, Middle East and Africa throughout 2012. To book a meeting with James Weaver, Head of Business Development EMEA, complete our EMEA Meeting Booking form. To talk to your local representative now, contact us via our website.
About Crawford Technologies
Crawford Technologies is an award-winning leader in print-stream transformation, document re-engineering, workflow, document accessibility and archiving software solutions. For the last three consecutive years, Crawford Technologies has been named one of Canada's fastest-growing companies by PROFIT Magazine. CrawfordTech has also been named to the Branham300 list, which recognizes outstanding companies in the ICT (information and communication technologies) industry.
Since 1995, Crawford Technologies' award-winning solutions have helped over 700 companies around the world reduce costs associated with communications' processes by delivering bills, statements and other mission-critical transactional communications to their customers in the format they need, when they need it. This includes alternate format documents in Braille, Large Print, Audio and E-text for visually impaired and print-disabled customers.
With CrawfordTech's range of unique software products and services, our clients simplify, automate and extend document delivery cost effectively - irrespective of current, legacy or future standards in infrastructure or document output. These clients, including four of the top five US banks, four of the top five US insurance companies and four of the world's top five car manufacturers, are realizing high-value results as costs associated with document processes are minimized through automation, new opportunities for savings across critical communications are realized and they react quickly to changes in regulations, policies, business requirements and technical infrastructure.
CrawfordTech's quality software, expert support and transactional document business knowledge help clients to meet operational, service, marketing, legal and compliance requirements and automate the delivery of billions of communications to their customers annually. Simply put, companies look to Crawford Technologies for a platform-independent approach, leading system performance and superior output fidelity. Please visit http://www.crawfordtech.com to find out more about CrawfordTech's clients, people, partners and solutions.
For media and other enquiries please contact the CrawfordTech Press Office:
North America Tel: +1-416-923-0080
UK Tel: +44 (0)20 3239 4723
media(at)crawfordtech(dot)com
http://www.crawfordtech.com