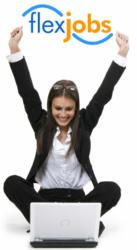 Boulder, CO (PRWEB) August 03, 2012
How can Olympians like Gwen Jorgensen train and earn income? With a flexible job. In fact, the triathlete was recruited by Team USA while keeping a job with an 80% schedule for Ernst & Young. Competing and winning the 2011 World Cup, she currently is on leave as she competes in the 2012 Olympics. Jorgenson is just one of the many Olympians who balance work with training and competition, and flexible jobs help them do it.
"Flexible work is a fantastic option for anyone looking for work/life balance, including fitness enthusiasts," Sara Sutton Fell, CEO of FlexJobs shared. "It is definitely inspiring to think that an athlete, such as Jorgensen, can hold a job while training for the Olympics and exciting to see the ever growing variety of positions available."
According to FlexJobs monthly index for July 2012, out of the 50+ career fields tracked, these five fields had the highest number of open flexible positions:
1. Medical & Health
2. Adminisistrative
3. Customer Service
4. Education & Training
5. Sales
Examples of telecommuting jobs from the above categories include: Medical Record Retrieval Specialist, Administrative Assistant, Customer Service Specialist, Physical Education/Health Teacher and Community Field Sales Representative
"The types of jobs that allow employees to work from home and/or virtually often surprise job seekers," said Fell. "Whether you are an Olympic hopeful or a regular Joe, these types of employment opportunities are a great way to balance your hobbies and your career."
The job categories with the largest increases of available flexible positions from June to July include:
1. Management up 26%
2. Nonprofit & Philanthropy up 25%
3. Accounting up 18%
4. Administration up 18%
5. Customer Service up 16%
The ongoing Flexible Job Index report tracks the availability and variety in the employment market for telecommuting, part-time, and other flexible jobs, and provides reliable data on top career fields that offer work flexibility. Data includes positions listed on the site directly by employers as well as jobs found by FlexJobs' trained staff of researchers who scour hundreds of online sources, including industry blogs, employer websites, job boards, job feeds, and more. Only professional jobs that can both be confirmed as legitimate and as having some kind of work flexibility (telecommuting, part-time or flexible schedule, or freelance contracts) are included in FlexJobs' job database.
The Flexible Job Index can be viewed by visiting http://www.flexjobs.com/trends. For media inquiries, please contact Chelsea Gladden, Chelsea@flexjobs.com or 1-866-991-9222 x 4.
About FlexJobs
FlexJobs is the leading online service for hand-screened and professional flexible, part-time, telecommuting, and freelance job listings. FlexJobs gives job seekers an ad-free way to find legitimate jobs quickly, easily, and safely. A proud member of the Better Business Bureau, FlexJobs skilled research team provides quality job leads in over 50 career categories, ranging from entry-level to executive, freelance to full-time. FlexJobs is a green, carbon-balanced company which is leading the way to the future of work by promoting telecommuting and flexible jobs that allow people to enjoy work and life in environmentally sustainable ways.
To find out more about FlexJobs, visit http://www.FlexJobs.com.