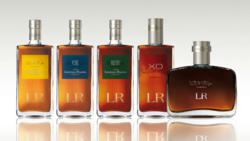 Changing Your Perception One Spirit At A Time, Altamar Brands Expands Its Portfolio To Include The Innovative Cognac Leopold Raffin
Corona del Mar, California (PRWEB) August 05, 2012
Altamar Brands announced today that it has entered into an agreement with Maison Rene Laclie to market its Leopold Raffin Cognacs in the United States.
The Leopold Raffin brand represents multiple expressions of ultra-premium cognac including VS, VSOP, Napoleon, XO and Extra. Small bottlings of rare cognacs will be finished in Sauternes barrels for select markets. Retail prices will range from $35 for the VS to $500 per bottle for the select Double Wood finishes. The VS and VSOP were awarded medals in competitions in London and San Francisco in 2012. The brand was also awarded medals in Chicago in 2011 and in Paris and China in 2010.
Leopold Raffin founded the company in 1889 and it is now in its 5th generation of family management. Bertrand Laclie, the founder's great great grandson, is the current President and Managing Director. The firm is based in Cognac, France.
"We are privileged to represent Bertrand Laclie's award winning cognacs in the United States. Bertrand has reinvented his family's business and its brands with nearly instant success and high recognition on the international stage. We hold his entrepreneurial spirit in the highest esteem and look forward to building his brand here", says W. L. Lyons Brown III, the Founder and CEO of Altamar Brands.
Altamar also represents, Tequila Ocho, Right Gin, Kubler Absinthe Superieur and Pierde Almas Mezcal.
Contacts:
W. L. Lyons Brown: lyons(at)altamarbrands(dot)com, 949.395.4540
Danielle Cavalucci: alchemist_ny(at)yahoo(dot)com, 949.607.6058
http://www.altamarbrands.com
http://www.rlaclie.com