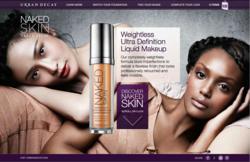 Seattle, WA (PRWEB) August 06, 2012
Seattle, WA – August 6, 2012
Naked Skin is the newest addition to their immensely popular Naked line. LiveAreaLabs designed and developed a custom shopping guide to help customers match their skin shade or swap their current foundation product. The shopping guide was built within the Urban Decay ecommerce website running on the Demandware platform. The Naked Skin Shade Finder is an intuitive and educational guide to help customers simplify the challenge of finding the perfect foundation shade match for them. It's optimized for both mobile devices and tablets.
With an average of 4 minutes spent on the site over the first week, the Naked Skin Shade Finder is doing just what was planned: engaging customers as they consider and shop for cosmetics products online. Urban Decay is known for their edgy, cruelty-free, and quality cosmetics. In the words of Wende Zomnir, co-founder and executive creative director at Urban Decay, they needed "an amazing interactive and branded impact that would help introduce Naked Skin with the same energy and elegance of an in-person sales experience" to support the Naked Skin digital launch.
LiveAreaLabs designed interactive rich media advertising to extend the Naked Skin launch, allowing consumers to match their shade within the ad unit. In addition to the Naked Skin shopping experience, customers are presented with customized complexion products based on their skin type and coverage and finish preferences.
"LiveAreaLabs is a great digital agency partner to Urban Decay. Their outstanding creative vision and translation of natural behavior to digital interaction enabled us to give our customers what they were looking for on our ecommerce site. An accurate and educational shade finding and complexion prescription experience online," says Katherine LaFranchise, director of ecommerce at Urban Decay.
About Urban Decay Cosmetics
Urban Decay Cosmetics is the largest independently owned color cosmetic company in the United States. Urban Decay is beauty with an edge. It is feminine, dangerous, and fun...appealing to anyone who relishes her individuality and dares to express it. Known for their risqué shade names and innovative products, Urban Decay carries one of the widest selections of eye color available, plus light-as-air foundations, dynamic lip and cheek color, and performance products that make your makeup last all day. Urban Decay has always found new ways to excite beauty junkies and makeup artists alike. For more information, visit http://urbandecay.com
About LiveAreaLabs
Founded in 2009, LiveAreaLabs has made a name for itself through world-class creative, marketing, and technology work in the retail industry. The agency leads a brand first approach to Flagship Experience Design™. No matter their clients' sector—apparel, cosmetics, housewares, consumer packaged goods, food and beverage, consumer electronics, or digital content—LiveAreaLabs expresses the unique essence of each brand through experiences that connect emotionally with customers, give them reasons to come back again and again, turn them into brand ambassadors, and drive them to make satisfied purchases. Offerings include branding, digital platforms (ecommerce, mobile, applications), and digital marketing. Clients include Brooks Sports, The Coffee Bean & Tea Leaf, Fila, London Drugs, Lucky Brand, LUSH Cosmetics, Meredith Wendell, Moving Comfort, Scientific American, Urban Decay, Virgin HealthMiles, and World Vision.
###