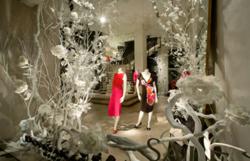 On behalf of Ovando, I am so honored to be a finalist in this year's Small Business Awards. Outstanding customer service is one of the core pillars of our business so we are very grateful to be recognized for these efforts. -Sandra De Ovando
New York, NY (PRWEB) August 06, 2012
(August 2012) - For the past seven years, the New York Enterprise Report has been recognizing the tri-state area's top small businesses for their accomplishments. This year, the New York Enterprise Report is proud to announce Ovando, New York's premier floral design and event production company, as a finalist in the category of "Customer Service Best Practice of the Year."
The finalists in the "Customer Service Best Practice" category were chosen based on their ability to demonstrate the use of a best practice to generate competitive advantages, revenue profits and/or long-term value. Ovando was chosen as one out of 9 finalists, as selected from a group of dozens of qualified applicants located in the NY metro area.
Ovando's Founder and Creative Director, Sandra de Ovando, shared her excitement with Robert Levin, Editor-in-Chief & Publisher of the New York Enterprise Report. "On behalf of Ovando, I am so honored to be a finalist in this year's Small Business Awards. Outstanding customer service is one of the core pillars of our business so we are very grateful to be recognized for these efforts."
"We are proud to recognize the achievements and accomplishments of Ovando," responded Robert Levin. "The use of their unique customer service best practices has given them a distinct competitive advantage over their competitors and we congratulate them for their initiatives and innovative thinking."
The best practice winners will be announced at the Small Business Awards Gala on Wednesday, October 10th from 6 p.m.- 10 p.m. at the Metropolitan Pavilion in New York City.
# # #
About Ovando:
Founded in 2003, Ovando is a full-scale floral design & event production company, celebrated for a modern style that embraces sculptural designs, bright colors and seasonal flowers. Ovando's products and services include the daily delivery of flower arrangements, a luxury collection of scented candles, weekly floral installations for corporate offices, hotels, restaurants and residential buildings, and end-to-end design and production for weddings as well as corporate and social events. World-renowned clientele look to Ovando for a modern yet timeless aesthetic as well as exceptional customer service and attention to detail. In addition to the Ovando production studio and corporate headquarters located at 120 West 28th Street, the company owns two retail locations in New York City; 337 Bleecker Street and 19 East 65th Street. For more information visit: http://www.ovandony.com
About the New York Enterprise Report:
At The New York Enterprise Report (http://www.nyreport.com), we believe that people should have access to the expertise to help them grow their businesses. We have built a peer-to-peer community of entrepreneurs and executives who constantly seek better ways to operate and grow. Through our multi-media platforms, we provide this community with access to knowledge from experts and inspiration from successful entrepreneurs.