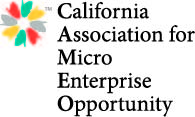 "If the unemployed can't find a job, they can create their own.
San Francisco, CA (PRWEB) August 03, 2012
"Today's unemployment numbers drive home the fact that we have got to focus on helping unemployed with entrepreneurial potential to start their own small business," says Claudia Viek, C.E.O of CAMEO, California Association for Micro Enterprise Opportunity. July's unemployment rate is 8.3 percent. About 41 percent of those who are unemployed have been jobless for more than 27 weeks – that's 5.2 million people. And that doesn't count the people who have stopped looking for work.
The face of today's unemployment troubles differs from earlier episodes. They are blue-collar workers over 45. They are young; for example, California's unemployment rate for 16-19-year-olds was 39.5 percent in June. And unemployment rates for minorities are higher than average. A diverse population of Americans has difficulties finding traditional employment.
"If the unemployed can't find a job, they can create their own," says Claudia Viek, C.E.O. of CAMEO. "We need to unleash the hidden potential of our entrepreneurs. The Workforce Investment System must train the unemployed who want to start a small business to become their own boss."
The federal government understands this. President Obama signed the Middle Class Tax Relief and Job Creation Act of 2012 in February, which included a $35 million self-employment assistance program.
Under the program, unemployed workers will be able to maintain their unemployment insurance benefits while they start their own small businesses – a full-time job in its own right – without having to look for other full-time work. This was not the case before this bill was signed. It's a win-win and could take even more people off unemployment as these small businesses grow and add jobs.
The money can be used by states to offer a Self-Employment Assistance (SEA) Program, which currently exist in Delaware, Maine, New Jersey, New York, Oregon, Pennsylvania and Washington. These programs have been successful at training the unemployed to start their own small business. This provision expands the opportunity for entrepreneurs nationwide.
The federal government gives the state unemployment offices the responsibility to determine how to train their workers. In most states job training traditionally is offered for jobs projected to be in demand–in the health industry, in the clean energy industry. But when there's an unexpected economic correction, those labor demand projections don't hold true.
The labor market has changed and the system must change with it. California can and should take advantage of this wonderful opportunity. CAMEO is working with state legislators to introduce the Self-Employment Assistance program so that Californians who are out of work and want to start their own business can create their own job.
Company Information:
CAMEO's mission is to promote jobs, economic opportunity and community well-being through entrepreneurship training, business coaching and microfinance. CAMEO is California's statewide Micro Enterprise association made up of over 160 organizations, agencies and individuals dedicated to furthering the fortunes of micro-businesses in California.