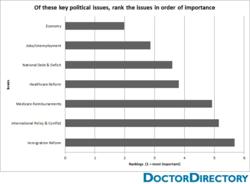 Healthcare reform ranks below the economy, unemployment, and the national debt when it comes to key political issues.
Asheville, NC (PRWEB) August 13, 2012
In preparation for the upcoming election season, DoctorDirectory, a leading marketing solutions company serving healthcare professionals and pharmaceutical industry clients, surveyed members of its professional community to discover which key political issues were of importance to them.
Physicians were asked to rank the following key political issues; weighted averages of the 927 responders reveal that physicians place these issues in the following order:
1. Economy
2. Jobs / Unemployment
3. National debt / Deficit
4. Healthcare reform
5. Medicare reimbursements
6. International policy and conflicts
7. Immigration reform
Physicians were also asked which candidate they feel has the best interest of healthcare practitioners in mind. 27% said Obama, 26% chose Romney, 23% chose none of the candidates, 18% said Ron Paul, and 6% did not respond.
When asked to choose a President, however, 41% chose Romney, 35% chose Obama, 15% were undecided, 5% preferred not to respond, and 4% chose neither candidate.
For more information about these surveys and DoctorDirectory's fingertip access to HCPs, please contact DoctorDirectory by email or calling 828-255-0012 x 105.
About DoctorDirectory
DoctorDirectory specializes in providing healthcare professionals the opportunity to participate in Market Research and other programs that help shape the healthcare industry. DoctorDirectory's exclusive IncreaseRx marketing solution provides pharmaceutical brand teams with access to virtually all U.S. prescribers and generates measurable and verifiable incremental revenues in a gain-share arrangement. Visit ContactDD.com to learn more. Follow DoctorDirectory on Twitter @ContactDD.