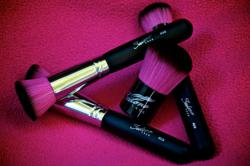 The amazingly soft synthetic bristles allow for less shedding and less wasted product.
Riverview, Florida (PRWEB) August 05, 2012
Sedona Lace, a nationally leading provider of high-grade beauty supplies, has today revealed their newest set of vegan brushes. These synthetic make up brushes are designed to provide the best possible application, but use no animal or plant-derived components.
The Midnight Lace synthetic brush set provides vegans and those concerned with human stewardship and protection of the natural world with the amazing results they desire and none of the drawbacks found with natural brushes.
This set of makeup brushes contains a rout top powder brush, as well as a flat top powder brush. Also included are an angle top powder rush and a kabuki brush. All brushes feature full synthetic bristles and handles and ensure just the right amount of product makes it to the skin. For those concerned that synthetic materials will not offer the best application, Sedona Lace says, "The amazingly soft synthetic bristles allow for less shedding and less wasted product."
One of the most eye-catching things about this set of vegan brushes is the combination of beautiful colors. The bristles are a bright, vibrant pink with dark purple tips; the color of the bristles is designed to offer a stunning aesthetic, but also to limit staining from makeup.
The handles are short and black, with three matte finished handles and one gloss finished handle (the kabuki brush). The handles were designed specifically to provide better grip and control during makeup application.
This four-piece synthetic brush set offers users the ability to look their best at all times, apply makeup with professional results, and avoid using brushes that feature natural hair and other elements derived from animals and plants.
To find out more about the Midnight Lace collection of makeup brushes, to see other professional beauty products and find out what else is available through Sedona Lace, visit the company at http://www.SedonaLace.com.
About Sedona Lace: Sedona Lace specializes in providing their customers with the highest quality cosmetics and application brushes to achieve professional results. From metals to pastels and earth tones, customers will find everything they need to create the look they desire with the professional quality selections from Sedona Lace.