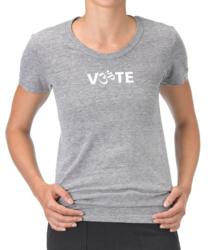 Denver, CO (PRWEB) August 06, 2012
Denver-based yoga clothing company, be present, is reintroducing its popular "VOTE" tee for 2012. This year, the collection expands to bring other fonts, styles and sayings for both men's and women's apparel.
be present first introduced its popular "VOTE" tee in 2004 when the company partnered with yogini and friend Tracy Columbus, to conceptualize the design. The original "VOTE" tee is characterized by the "O" in vote, which is replaced with am Om symbol. The artwork made another appearance in 2008 has become a very popular be present item and is also well recognized within the yoga community. The tees are back in high demand for 2012 and be present has responded by making more options available in the collection.
2012 brings some new additions to be present's Vote Collection. The original artwork still makes an appearance on men's styles and select women's styles. In addition, the company is releasing two new designs; one is similar to the original "VOTE" artwork but introduces a new, script font. The other reads "Vote With Your Heart," still maintaining the Om symbol in place of the "o" in "Vote" and also utilizing a two-color screen print. Artwork will be available on men's and women's styles which include organic cotton tees, women's organic cotton long sleeves and a blended polyester, cotton and rayon short sleeve tee for women.
All styles of the be present Vote Collection will be available for sale at http://www.bepresent.com.
be present, clothing for the yoga lifestyle, was established in Colorado in 2002 by Amy Lopatin Dobrin and Jon Dobrin. All be present clothing is proudly made in the USA. The brand remains at the forefront of the yoga apparel industry, continually designing clothing that is original and functional.
For additional information, images and samples, please contact:
Maggie Mistovich
maggie(at)bepresent(dot)com
#303.228.4601
#####