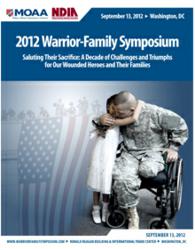 These men and women deserve our very best, as do their families, who are integral to the healing process of their loved ones, stated Rep. Jeff Miller, Chairman of the House Committee on Veterans' Affairs.
Alexandria, Va. (PRWEB) August 20, 2012
The Honorable Jeff Miller, (R-Fla.), chair of the House Committee on Veterans Affairs, will join The Honorable Eric K. Shinseki, secretary of Veterans Affairs, as distinguished speakers at the 2012 Warrior-Family Symposium (WFS) on Thursday, Sept. 13. This event, hosted by the Military Officers Association of America (MOAA) and the National Defense Industrial Association (NDIA) to honor wounded heroes and their families, will be held from 8:30 am to 3:30 pm at the Ronald Reagan Building and International Trade Center in Washington, D.C.
"I am honored to be a part of this year's Warrior-Family Symposium," stated Miller. "These men and women deserve our very best, as do their families, who are integral to the healing process of their loved ones. Each continues to sacrifice for our nation, and this annual symposium, led by MOAA, will highlight what we need to do to help them achieve the highest quality of life possible."
Event registration, which is open online until Sept. 5, is free to all active duty/reserve component servicemembers and their spouses. This year's WFS event will focus on the theme "Saluting Their Sacrifice: A Decade of Challenges and Triumphs for Our Wounded Heroes and Their Families."
Event co-presenters MOAA and NDIA plan to provide a forum for expanding on the collective efforts of government and non-government organizations to improve the physical, psychological and overall well-being of wounded warriors and their families.
Two discussion panels will focus on issues of readjustment in the home, in the community, and in the workplace. Panels are:

"The Early Years — How Wounded Warriors-Families Are Doing Today"
Wounded heroes and their families and caregivers recount their diverse experiences, challenges and triumphs during their road from injury to recovery to transition, and share their insights and a glimpse at how they are doing today. Moderated by Alex Quade, award winning freelance war reporter.
Fireside Chat: "Transitions & New Beginnings — Linking Alliances To Evolving Needs" Active duty, separated and medically retired active duty servicemembers and veterans and their families talk about their transition experiences in recent years, their expectations, and how they survived/thrived during the process. Public-private organizations will join the discussions, exploring opportunities and collaborative ways to enhance and refine programs and services to meet a lifetime of changing needs. Co-Moderators are Mr. Derek Donovan, vice president, Fisher House Foundation, and retired, Marine Corps Master Sgt. William "Spanky" Gibson.
With the focus on such topics, the WFS will offer all who attend an overall awareness of the wounded warriors' needs and, subsequently, lead to the further enhancement and refinement of programs and services that will benefit them and their families.
For more information and to register, visit http://fs20.formsite.com/moaaweb/2012WFS/index.html . Online registration will close on Sept. 5. Onsite registration will be available at the event.
Questions from the audience will be welcomed. Speakers, panelists, and leaders of MOAA and NDIA, including MOAA President Vice Adm. Norb Ryan, Jr.,will be available for interviews.
Thank you to our corporate sponsors:
Executive Sponsor: USAA
Patron Sponsors: HealthNet Federal Services LLC, TriWest Heathcare Alliance and Lockheed Martin Corp.
Gold Sponsors: US Family Health Plan, Express Scripts, Humana Government and EADS North America
Silver Sponsor: CUBIC Defense Applications, Inc.
Continental Breakfast Sponsor: American Physical Therapy Association
Lunch Sponsor: Strategic Resources, Inc.
MEDIA NOTE: All media attendees who are interested in covering the event, please register by emailing pr(at)moaa(dot)org with your name, title, and publication.
# # # #
Follow conference updates on Twitter - Hashtag #2012WFS
2012 Warrior-Family Symposium (WFS) video - http://www.moaa.org/wfs/
About MOAA:
Military Officers Association of America (MOAA) is the nation's most influential association of military officers. MOAA is a nonprofit and politically nonpartisan organization with 370,000 members from every branch of service, including active duty, National Guard, Reserve, retired, former officers and their families and survivors. We are a powerful force speaking for a strong national defense and representing the interests of military officers at every stage of their lives and careers. For those who are not eligible to join MOAA, Voices for America's Troops is a nonprofit MOAA subsidiary that supports a strong national defense. To learn more, visit http://www.moaa.org.
About NDIA:
The National Defense Industrial Association (NDIA) is America's leading Defense Industry association promoting national security. NDIA provides a legal and ethical forum for the exchange of information between Industry and Government on National Security issues. NDIA members foster the development of the most innovative and superior equipment, training and support for warfighters and first responders through our divisions, local chapters, affiliated associations and events.