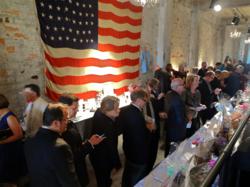 Norton Shores, MI and Calabasas, CA (PRWEB) August 09, 2012
ClickBid LLC, a premier provider of silent auction, smart phone bidding software, and Silent Partners, a leading provider in silent & live auction management, procurement and reconciliation services, have announced their strategic alliance. The companies will be a one-stop-shop in the non-profit auction industry, committing their resources, knowledge and expertise to provide unmatched value and results for organizations of every size that conduct fundraising events.
"Silent Partners procures items and expertly organizes and coordinates non-profit events while ClickBid provides the electronic bidding and web based management tools," said Matthew Burnell, founder of ClickBid. "Working with these two experienced teams will enable organizations to focus their resources on cultivating donors and securing sponsorships, instead of wasting energy on the nuts and bolts."
"Click Bid offers our clients the best mobile bidding solution at a very reasonable price without any back-end percentages," said Scott Merrin, President and founder of Silent Partners. "The synergy of our companies will allow our clients to enjoy a seamless integration into the exploding mobile bidding arena."
Silent Partners' auction solutions eliminate headaches and sleepless nights, coordinating entire auctions for non-profits. From the development of the donation solicitation letter and procurement of critical donations to the final itemized sales and reconciliation reports, Silent Partners transforms auctions into vital elements of fundraising strategies. Contact Scott Merrin at 818.222.3525 or visit http://www.4silent.com for more information.
ClickBid leverages cloud-based technology and a mobile web platform to eliminate the boundaries of a traditional silent auction. From eliminating paper bid sheets to expediting check-out with emailed receipts, ClickBid applies user-friendly technology to optimize silent auction performance. Contact Matt Burnell at 616.308.3962 or visit http://www.clickbidonline.com for more information.