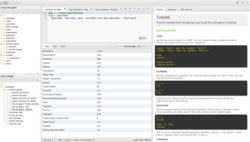 Boulder, CO (PRWEB) August 06, 2012
Precog (http://www.precog.com), the market-leading provider of infrastructure for data warehousing and analysis, today announced that it has released an early preview version of an interactive data analysis tool called Labcoat. Labcoat empowers data analysts, data scientists, and developers to integrate, analyze, and visualize massive volumes of semi-structured data.
Powered by the Precog data analysis platform, Labcoat allows users to run arbitrary Quirrel scripts across large amounts of data. Quirrel is a simple but powerful language designed for the analytical and statistical analysis of large, semi-structured data sets. By supporting Quirrel, Labcoat allows users to answer big data questions that previously would have required substantial software engineering resources to answer.
"I was very impressed by how fast the Precog team brought Labcoat to life, which must have required bright minds and excellent technology," said Lars Steiger, Developer at FastSpring. "Within Labcoat, it's extremely easy to answer difficult questions with real-time performance and make custom charts quickly. In addition, there are other features which make my job easier, such as collaboration, running queries in my web app, and more."
Labcoat by Precog launches with a virtual file system, query manager, query results, query editor as well as online documentation and tutorials. The query manager is used to save and load queries, whereas the query editor is used to interactively develop and run queries. In the early preview version of Labcoat, developers can experiment with sample data, such as the London Summer Games or sales transactions, by running preloaded queries or by creating custom queries.
"This new tool makes next-generation data analysis technology accessible to developers, data analysts, and data scientists. " says John A. De Goes, CEO of Precog. "Now with no training, installation, or configuration, data scientists can simply answer deep questions about their data, and developers can come up with sophisticated ways to use data inside their apps."
Labcoat by Precog will soon allow users to upload their own data by using a simple drag-and-drop interface in the virtual file system pane. To stay informed about this and other upcoming features, please subscribe to the Precog Newsletter at http://www.precog.com. To experiment with the Labcoat application, please go to http://labcoat.precog.com
About Precog
Precog is the leading provider of data analysis technology and provides infrastructure for data warehousing and analysis to help developers incorporate intelligence and insights into their applications. Precog employs the original authors of the Quirrel language, and has developed the industry's most complete and heavily-optimized execution stack for the Quirrel language. In addition, Precog develops Labcoat, a highly-interactive, collaborative data analysis environment. For more information, please visit http://www.precog.com
Media Contact:
Tasha Danko
720-936-1131
marketing(at)precog(dot)com