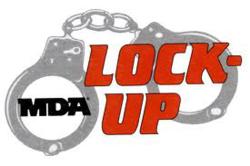 Partners In Crime Jeff and Vicki Gold need your help to raise bail!
New Haven, CT (PRWEB) August 07, 2012
Community business leaders including Dr. Jeffrey Gold and his wife Vicki, the Mayor of East Haven, New Haven Fire Fighters, State Marshall & Yale University Department Heads, will be arrested at their place of business and transported to Buffalo Wild Wings, located at 74 Church Street in New Haven, to serve their time at the local MDA Lock-Up. At Buffalo Wild Wings, the "jailbirds" will be served complimentary "jail" food while they each attempt to raise at least $2,400 in bail money.
This year the local MDA has set a goal to raise over $30,000 at the event, which will send 38 CT children living with a neuromuscular disease to summer camp this year. Funds will also be used to continue ground-breaking research in the quest to find a cure.
MDA is the nonprofit health agency dedicated to curing muscular dystrophy, ALS and related diseases by funding worldwide research. The Association also provides comprehensive health care and support services, advocacy and education. The majority of contributions to MDA come from individual donors.
For more information on this event please contact Chasity Bothman, Executive Director, New Haven District Office, at cbothman(at)mdausa.org or at (203) 248-6500.
Dr. Jeffrey Gold is the award winning medical director of Liberty Vision and Laser Body Solutions in Hamden, CT. Laser Body Solutions is Connecticut's Home for Anti-Aging Treatments.