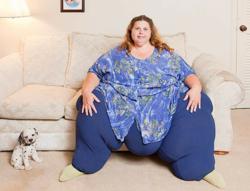 I burn 500 calories a session. It's great exercise.
Cranston, Rhode Island (PRWEB) August 04, 2012
After announcing this past month that the Guiness World Record holder for 'heaviest woman' Pauline Potter has lost nearly 100 lbs through what she calls 'sexercise', sexual health and wellness provider NiteTimeToys.com wants to aid her on her journey.
After reuniting with her ex-husband of 3 years, Potter attributed her steady weight loss to exercising in a pool, cutting out most junk food and 'Marathon sex' sessions. Potter stated in The New York Daily News "I burn 500 calories a session. It's great exercise." Potter also revealed that she is now making love between two and seven times a day.
Upon reading this story, NiteTimeToys Outreach Director Matt Douglas released an open letter to Potter stating: "We would like to discuss a sponsorship opportunity that would give you a platform to share your advice and story on an ongoing basis with our worldwide customer base."
"It has always been our belief that sexuality is a solid part of any healthy adult lifestyle." states Douglas. "Ms. Potters story is the perfect snapshot of this. Here is a woman, who through the use of sexuality, not only has put herself on a more healthy path, but has also rekindled a romance with her estranged ex-husband. It's quite exciting and uplifting."
NiteTimeToys has offered a forum for Potter to share her story with people around the world, and also to allow her to choose from any of the thousands of products carried on their site - as well as training, nutritional and sexual advice by a panel of professionals. NiteTimeToys is currently awaiting a response from Ms. Potter in regard to the opportunity.
About NiteTimeToys.com:
Founded in 1999, NiteTimeToys.com has been providing men, women and couples with a safe, discreet and secure online environment to purchase a wide variety of sexual health products. In addition to offering the lowest prices, NTT also strives to provide excellent customer service, which is evidenced by their customer reviews on Google.com, Shopzilla.com, Epinions.com and Bizrate.com. To learn more visit http://www.NiteTimeToys.com or call toll free (888) 968-8697.