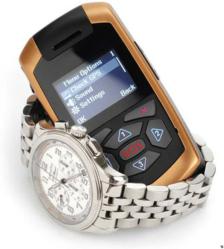 At last, a small, pmobile easy-to-use cellular phone for seniors combined with a nationwide call-for-help medical alarm system.
Oceanside, CA (PRWEB) August 06, 2012
SafeGuardian, Inc., distributor of life saving emergency medical alert devices announced it is giving freedom to seniors with its offer of a Free Senior Safety SOS Cellular Phone during the months of August through December – while supplies last.
The professionally-monitored Senior Safety SOS Cellular Phone is a fully-functional nationwide cell phone and is also equipped with a unique built in SOS "Care" button, GPS locator and fall detection.
A perfect gift for mom or dad, aunt or uncle, medical patient or young child. The safety phone is free with paid new account activation and monthly personal emergency monitoring service plan.
Data from the Center for Disease Control and Prevention ("CDC") shows that falls are the leading cause of injury death among those 65 or older. They are also the most common cause of non-fatal injuries and hospital admissions for trauma.
According to the Administration on Aging about 29.3% or 11.3 million non-institutionalized older persons live alone. This proportion increases with advanced age, for example among women aged 75 and over, almost half (47%) lived alone. There is a significant risk for these older adults of falling and not having access to immediate help. The SOS cell phone addresses the in-home risk but also gives older adults the freedom of mobility.
"Seniors are living longer and are more mobile," says Thomas Franks, CEO of SafeGuardian, Inc. "We are thrilled that we can offer a simple, easy to use cell phone that provides seniors and their families peace of mind without limiting their independence."
The Senior Safety SOS Cellular Phone, designed for seniors, patients and kids is one of its kind. The business card sized cell phone offers nationwide protection and features large preprogrammed buttons with a central SOS button. The GPS provides location identification, directions and tracks your location using global positioning satellites. Fall detection senses if you have suffered a fall and automatically connects you to a Care Specialist ensuring that you are never alone and have access to help.
"The Senior Safety SOS Cellular Phone meets the needs of a new generation of seniors who are living longer and doing so independently. The SOS phone preserves their freedom and mobility without being intrusive, and gives families the peace of mind knowing their loved ones will always be safe," says Erik Gonzales, Director of Care Center.
You can order your Free Senior Safety SOS Cellular Phone during the months of August – the end of December - while supplies last.
About LifeGuardian
LifeGuardian Medical Alarms, a wholly-owned subsidiary of SafeGuardian, Inc., is based in Las Vegas, NV and with offices in San Diego, CA. and specializes in the distribution of wireless emergency medical alarms, senior cellular SOS phones and cellular GPS enabled life safety systems. To learn more visit http://www.medicalalarmsystems.com/.