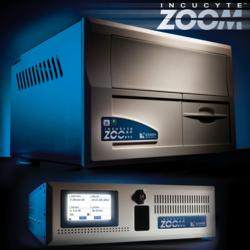 2-Color Live Content Imaging with HD Pictures and Movies
Ann Arbor, MI (PRWEB) August 07, 2012
Essen BioScience Inc., a global provider of life science research tools and services, today announced the launch of its new live-cell imaging system, IncuCyte ZOOM™, as well as an expanded line of novel CellPlayer™ reagents specifically developed by Essen for use on the platform.
The IncuCyte ZOOM™ is the 2nd generation live-cell imaging platform offered by Essen BioScience. A unique aspect of the IncuCyte technology is that the system acquires images automatically from within the user's cell culture incubator, enabling users to gather biological image data around-the-clock without removing the cells from their physiological environment. The IncuCyte is also equipped with integrated software providing full quantification of the real-time biological processes under observation. New features on the ZOOM include multi-fluorescent colors, support of a broader range of magnifications, enhanced phase contrast processing tools and more speed. The new CellPlayer™ reagents include targeted fluorescent probes and fully-validated GFP/RFP nuclear labeled stable cell lines. These reagents are non-perturbing to cell health and superior to traditional organic dye labels for long term imaging assays. Together, the IncuCyte Zoom and suite of CellPlayer™ reagents and assays provide a fully integrated solution for quantitative long term kinetic biology; an approach we call Live Content Imaging.
"We are very excited about the release of ZOOM and associated CellPlayer™ reagents", says Kirk Schroeder, President of Essen BioScience. "Drug discovery research is continuing to move to more advanced, mixed culture assay models in order to better predict in vivo biology. These new offerings make it easy to monitor multiple cell types with non-perturbing labels and a full kinetic read-out; a new dimension for in vitro cell biology."
To learn more about the IncuCyte ZOOM and associated applications please visit us at http://www.essenbioscience.com.
About Essen BioScience:
Essen BioScience is a privately held company headquartered in Ann Arbor, Michigan with a wholly-owned subsidiary in Welwyn Garden City, UK and Tokyo, Japan. Essen has a tradition of delivering break-through technologies for the life science industry including products such as FLIPR, IonWorks and IncuCyte. Over the last few years Essen has expanded its offerings beyond instrumentation, building a global cell biology team and a range of capabilities including reagent development, fee for service screening and drug discovery partnerships. The combination of drug discovery and instrumentation experience makes Essen a unique provider of life science research tools and services.