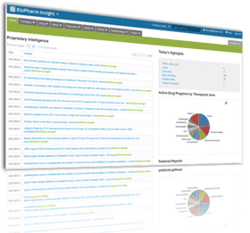 Norwood, MA (PRWEB) August 06, 2012
Infinata Inc., part of the Financial Times Group of companies, has developed an intuitive and interactive user interface as the basis for its leading global biopharmaceutical solutions, BioPharm Insight™ and BioPharm Clinical™. Interested individuals may sign up in August for a free trial to take advantage of all the new features such as a personal Workspace, expanded data analytics, interactive graphs and more.
Both cloud-based products have been completely redesigned from the ground-up to provide the optimal user experience while enabling them to quickly find the precise information they are looking for. Highlights of the new platform include:
BioPharm Insight (free trial)

Renowned proprietary investigative journalism service with custom real-time email alerts for stories important to you
Powerful and precise search filters for companies, contacts, drugs and trials, epidemiology profiles, M&A activity, licensing deals and more
Interactive graphs and charts enabling users to quickly drill down into specific data
Activity scores to evaluate how involved contacts are in the industry
Active Intel™ dynamic linking of journalist stories and intelligence reports to the companies, drugs, people and trials making news
Monthly calendar of upcoming events expected to have an immediate impact on the global industry
BioPharm Clinical (free trial)
Analytics based on the largest tracked pool of more than 170,000 global clinical trials
Study Advisor™ forecasts of trial milestones and timelines (e.g. expected length of study, number of enrolled patients, likely AEs), competitive activity analysis and suggested sites/investigators based on users' specific protocol details
Detailed investigator profiles featuring proprietary calculations of indication expertise
Interactive datafeed of recent submitted studies and relevant drug development updates
More international trial, investigator site breakdowns than any other resource
"We developed this new platform closely with our valued clients to help them do their jobs more efficiently than ever," said Ruth McHenry, Managing Director at Infinata. "Whether a CRO in China is searching for Phase III trial management opportunities or a clinical operations director in the United States is trying to identify trustworthy European investigators for a global asthma study, customers will spend less time searching for critical strategic information and more time using it."
About BioPharm Insight
BioPharm Insight is the definitive guide to the global biopharma community. BioPharm Insight provides clients with an information edge by combining the most comprehensive real-time database of companies, drugs, contacts, M&A and licensing deals, forecasts and clinical trial data with proprietary forward-looking intelligence uncovered by an independent team of investigative journalists months or even years before it breaks in mainstream media. To learn more, visit biopharminsight.com.
About BioPharm Clinical
BioPharm Clinical is an exclusive support solution for clinical operations professions, providing real-time trial analytics and the most comprehensive database of sites and investigators. Clients benefit from proprietary calculations tailored to their particular trial requirements, detailed milestone timelines and more as they make critical study feasibility assessments and evaluate investigators for their global programs. Learn more at biopharmclinical.com.
About Infinata, Inc.
Featuring a comprehensive BioPharm Solutions Suite, unique Wealth Prospecting tools and innovative Custom Data Services, Infinata provides personalized technology solutions to turn information into insight. Infinata is a part of Mergermarket, a Financial Times Group company and a division of Pearson plc. To learn more, visit infinata.com.