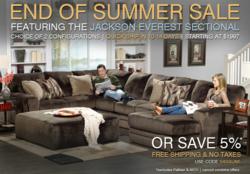 We are always looking for ways to improve our customer's online shopping experience, and being able to cut down the delivery time by half is a big step.
Golden,CO (PRWEB) August 07, 2012
To show customer appreciation, SofasAndSectionals.com, the leading online furniture retailer since 2008, announces a limited-time quick-ship promotion on Jackson Everest Furniture's best-selling sectional, the Jackson Everest. The promotion is effective while stock lasts which is expected through the middle of August. With more than 75 years of developing furniture, Jackson Furniture has established a name for producing high quality and extremely comfortable sofas and sectionals sets.
"We want to make online shopping as simple and as convenient as possible," says James Tuma, Sales Manager at SofasAndSectionals.com. "We're continuously working to speed up delivery times and improve the customer experience and that is why we stocking one of our best-selling items, The Jackson Everest Sectional, to achieve just that."
The Jackson Everest Sectional is available for quick shipping in popular chocolate microfiber fabric. Its contemporary style and thick high density foam cushioning provides excellent lumbar support and carries Jackson Furniture's limited lifetime warranty. The sectional is available in various configurations, with or without an ottoman, and is expected to sell out rapidly.
"Customers love the look and feel of the Jackson Everest Chocolate Sectional. It's soft to the touch and extremely comfortable," says Mr. Tuma. "We only sell premium sofas and sectionals- and the Jackson Everest Sectional is by far, one of our most loved sectionals. We are excited to offer it to our customers with the benefits and convenience of a 10-14 day delivery window."
Any ecommerce business understands the importance of quick and efficient delivery and the related effect that it has on the customer experience. At SofasAndSectionals.com, shopping for furniture is convenient and easy where the selection of products is almost unlimited and various brands and models can be viewed in product videos and images. Product information can also be discussed with their experienced sales associates to assist with the purchase decision.
The popularity of online shopping has resulted in improvements in the delivery and lead times for purchasing products online. Despite these improvements, furniture is bulky and requires additional transit time to be safely delivered. By inventorying popular brands like the Jackson Everest in addition to other models and brands in their 60,000 square foot warehouse, and contracting specialist freight companies, SofasAndSectionals.com has the ability to deliver popular products with lead times that far exceed the standards for the furniture industry.
"General delivery time from date of purchase to arrival averages out to about 21 business days, which is considered a fast delivery in the online furniture industry," explains Mr. Tuma. "We are always looking for ways to improve our customer's online shopping experience, and being able to cut down the delivery time by half is a big step."
About Jackson Everest Sectional
Jackson Furniture is considered a staple in the furniture industry due to its high quality sofas and sectionals. The Jackson Everest Sectional has become Jackson Furniture's best-selling sectional, and is currently one of SofasAndSectionals.com best-sellers as well.
About SofasAndSectionals.com
SofasAndSectionals.com is a division of InteriorMark, LLC, who is the market leading retailer in luxury home furniture, including entertainment centers, premium theater seats, accent furniture and bedroom collections. The offers thousands of premium products designed to furnish a home. InteriorMark is considered a leader in the furniture retail industry due to the company's core values and quality customer service. InteriorMark, LLC has also been a proud member of the Better Business Bureau since 2008 and is a member of the National Home Furnishing Association.