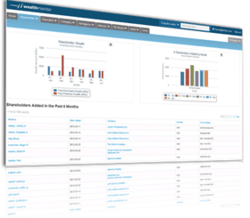 Norwood, MA (PRWEB) August 06, 2012
Infinata Inc., part of the Financial Times Group of companies, has developed an intuitive and interactive user interface as the basis for Wealthmonitor™ and High Net Worth Insight™ financial solutions. Interested individuals may sign up in August for a free trial to take advantage of all the new features such as a personal Workspace, expanded data analytics, interactive graphs and more.
Both cloud-based products have been completely redesigned from the ground-up to provide the optimal user experience while enabling them to quickly find the precise information they are looking for. Highlights of the new platform include:
Wealthmonitor (free trial)

Full access to daily stream of proprietary investigative journalism reporting on future M&A activity with a comprehensive database of the shareholders and/or executives who stand to benefit
Customized homepages and search filters based on the information and data relevant to each customer or geography (e.g. European countries, U.S. states)
Expanded and powerful searches for M&A intelligence, contacts, companies, advisors, PE houses, completed deals and more
High Net Worth Insight (free trial)
Custom territory analysis and a detailed overview of opportunities which filter contact updates such as new jobs and insider transactions to each user's prospecting area
A personalized experience throughout the entire product including a full-featured integrated CRM system and personal Workspace of tracked contacts and companies
Newsfeed of stories with insight into potential relevant business development opportunities
"We developed this new platform closely with our valued clients to help them do their jobs more efficiently than ever," said Ruth McHenry, Managing Director at Infinata. "Whether a private wealth manager in the United Kingdom is seeking a competitive edge on upcoming M&A activity or an individual Financial Advisor is trying to find new executives with 401(k) rollover opportunities in Chicago, our cloud-based solutions enable intelligent and qualified prospecting to improve our clients' book of business."
About Infinata, Inc.
Featuring a comprehensive BioPharm Solutions Suite, unique Wealth Prospecting tools and innovative Custom Data Services, Infinata provides personalized technology solutions to turn information into insight. Infinata is a part of Mergermarket, a Financial Times Group company and a division of Pearson plc. To learn more, visit infinata.com.