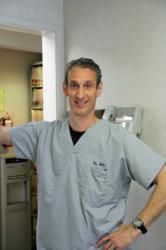 Englewood Cliffs, NJ (PRWEB) August 05, 2012
Michael Margolin, D.M.D. is trained and certified as one of only about one percent of dental professionals in the United States who can use the Laser Assisted New Attachment Procedure to treat patients. LANAP is the only laser procedure cleared by the FDA for periodontal disease treatment. As a laser dentist, Dr. Margolin can utilize this new technology to help patients who suffer from gum or periodontal disease.
During the LANAP procedure, Dr. Margolin will use a probe to determine the depth of the gum pockets. He will then use the very selective PerioLase MVP-7 laser to locate and eliminate bacteria, and to remove diseased gum tissue. The healthy tissue is left in the mouth in an undamaged condition. Ultrasonics are used to eliminate the calculus that has attached to the teeth below the gum line. Next, the laser dentist compresses the remaining healthy gum tissue and uses the fiber optic tip of the laser to stimulate it to re-attach to the roots of the teeth. At the same time, the bone is stimulated, which aids in regeneration.
The whole procedure is not very invasive, and no cutting or sutures are required. Recovery from the procedure is quite speedy, as little pain or discomfort is felt. Gum recession is minimized and results are quite good. LANAP is certainly a viable option for periodontal disease treatment.
Gum disease affects millions of persons in this country, and many do not realize how important it is to get treatment. Not only are dental problems such as receding gums and tooth loss problems that gum disease can cause, but the infection in the mouth can spread through the blood stream and affect other areas of the body. Serious diseases such as diabetes, kidney failure and heart failure are a few of the health problems that are linked to gum disease. Getting treatment can make a big difference in one's overall health. To learn more about gum disease and the LANAP periodontal disease treatment procedure, visit newjerseylasergumdentist.com.
Margolin Dental Associates is a general practice offering patients personalized dental care Englewood Cliffs, NJ. Michael Margolin, D.M.D. received his B.A. in Economics from Ithaca College and earned a Doctor of Dental Medicine Degree from Fairleigh Dickinson University. After graduating he joined his father and his brother in a group practice where he has worked for the past 21 years. Dr. Margolin is part of one percent of dental professionals providing the most recent FDA cleared laser procedure for gum disease and periodontal treatment. To learn more about Margolin Dental Associates and their dental services visit their website at http://www.newjerseylasergumdentist.com and call (201) 399-4703.