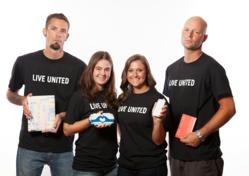 Device skins are a great way for people to express their personalities and causes. We are excited about our relationship with DecalGirl, their quality products, and their commitment to supporting the United Way brand," says Greg Magnani, United Way Store
(PRWEB) August 07, 2012
DecalGirl has joined hands with United Way to produce a line of skins promoting the goals of the charity as well as their "LIVE UNITED®" campaign.
United Way was founded as the "Charity Organizations Society" in 1887 by religious leaders in Denver, Colorado. In the years since its founding United Way Worldwide has grown into a network of nearly 1800 community based United Ways in 45 countries and territories. One of the major goals of United Way is to create long lasting community change by addressing problems that prevent progress in three areas: education, income, and health.
"United Way is an amazing organization that does amazing things. We are very honored to create a program to help them promote their message through our skins," says Amanda Peters, Chief Operating Officer, DecalGirl.
"LIVE UNITED® is a call to action for everyone to become part of the change. DecalGirl is committed to that concept," says DecalGirl's SVP of Licensing, Linda Castillion.
"Device skins are a great way for people to express their personalities and causes. We are excited about our relationship with DecalGirl, their quality products, and their commitment to supporting the United Way brand," says Greg Magnani, United Way Store President.
DecalGirl offers six United Way skins based on the "LIVE UNITED®" message. DecalGirl has developed some very creative and unique designs so that folks will look good while giving, advocating, and volunteering! DecalGirl is committed to donate 8% of all United Way skin sales or a minimum of $5,000 to the organization.
About DecalGirl
DecalGirl, in business since 2003, is the oldest US-based skin company, offering skins for almost every available gadget, including cell phones, laptops, tablets, eReaders, gaming devices and more. Everything at DecalGirl, from skin design and production to materials, marketing, and customer service is U.S. based. Designs are printed on top quality vinyl then sealed with the customer's choice of a gloss or matte finish, creating a skin that will hold up to all except the roughest treatment, and which comes off easily and cleanly when it's time for a new one. Skins cover much or all of a device, providing maximum scratch protection and are thin enough that they don't interfere with covers or hard cases. DecalGirl skins also come with free downloadable matching wallpaper on supported devices. DecalGirl offers over 2500 designs from over 100 artists, starting at $9.99.
Lemur Licensing is a full service licensing agency and consulting firm based in Marietta, GA. In addition to United Way, Lemur Licensing represents Blue Rhino, Busted Knuckle Garage, Briggs & Stratton, Murray, Snapper, National 4-H Council, Peace and Victory logo, and See Rock City among others.