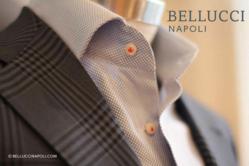 You would never order a bottle of Barolo wearing a casual shirt.
New York, NY (PRWEB) August 03, 2012
Last night, Bellucci Napoli hosted the second "Bespoke & Wine" event of the series. Twenty guests presided as master sommelier Stefano Milioni introduced them to the art and palate of Barolo – Italy's King of Wines otherwise known as the Wine of Kings.
Nedo Bellucci, a master in his own right, entertained guests by introducing them to the tradition of Neapolitan tailoring. The success of the event and positive feedback confirmed Bellucci Napoli's interest in articulating the strong correlation between the art of tailoring and wine making.
All "Bespoke & Wine" evenings at Bellucci Napoli will include:
Bespoke experience:
Head Designer & President Nedo Bellucci educates guests on the signature details making up a Bellucci Napoli garment including tips and trade secrets on how to design a shirt that truly fits your personality and physique.
'Bespoke' portion of the evening commences on the 19th Floor where guests will begin the fitting process with Master Tailor Simonpietro Olibet
Wine experience:
Master Sommelier Stefano Milioni will present a documentary on the art of winemaking and the secrets involved in professional wine tasting.
'Wine' portion of the evening commences on the 20th Floor where guests will meet Stefano Milioni and take part in a wine tasting and food pairing featuring Neapolitan delights
Catering is graciously sponsored by
The Leopard at des Artistes & Pizza Master Roberto Caporuscio
Check-in/Arrival Time: 6:00 pm – 7:00 pm
Evening Ends 9:30 pm
The next series of "Bespoke & Wine" events will feature the following select wines and themes:
1. Italian bubbly: Prosecco vs. Prosecco.
Guests will enjoy a tutorial that will focus on comparing a high quality Prosecco – comparable to French Champagne, to the ever growing production of 'cheaper' Proseccos valued at $ 5 or less, often produced in Argentina or/ and Australia.
2. The New Italian White Wines: local vs. International varieties.
The focus of this presentation is to compare international grapes with those from a local, Italian winery. Stefano Milioni will expand on the theme by comparing Chardonnay with Vermentino, a Sauvignon from Fruili with a Friulano.
Going local vs going global. How do the two compare?
3. Aglianico: The Renaissance of Southern Italy.
Like Bellucci, Aglianico wine originates from Naples. Until recently the region and the wines produced there did not enjoy the same qualitative standing of its more noble cousins to the north. But opinions are changing and with the growth in production and interest, wines from Southern Italy are claiming their due in the art of wine making and appreciation.
4. Valpolicella vs. Amarone
Both wines come from North East Italy. They share the same grape but distinguish themselves during the harvest, production and aging process. Amarone easily qualifies as one of Italy's best while Valpolicella is considered a palatable table wine without pretence or ambition.
5. Brunello di Montalcino: 100 years young.
Another important wine from Tuscany that, like Barolo and Amarone goes through a long aging process. Commonly referred to as Barolo's alter ego for it's great following and prestige, it enjoys a relatively young history. Uncorked on special occasions, Amarone's taste and bouquet evoke the rich variety and refined culture of the region.
You are invited to contact Bellucci Napoli to make a reservation. Guests can option to participate in a single event of purchase a package for the entire series.
Ticket price for the event is $ 350.00 per person, which includes the following:

One fully custom Bellucci Napoli bespoke shirt for men and women (value $350.00);
One bottle of the tasted wine (specially chosen by Master Sommelier Stefano Milioni) (value $70.00);
One pair of Limited Edition Handmade Bellucci Napoli Signature Cuff-links (value $108.00).
$350 giftcard towards Suit.