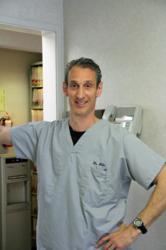 Englewood Cliffs, NJ (PRWEB) August 06, 2012
Dr. Michael Margolin of Margolin Dental Associates wants his patients to have happy, healthy smiles. He understands the problems that missing teeth can cause and wants patients to know that dental implants are a very viable option. Implants are very durable and many have stood the test of time. This means that the dental implant cost must be looked at over an extended period of time. Rather than having to replace something that may cost less than implants a number of times, implants actually pay for themselves over time because they have longevity and may rarely require replacement.
Dr. Margolin works with patients on an individual basis to determine whether implants are the best option or whether other options would be better. When teeth have gone missing or are extracted, a gap is left where the tooth used to be. Often, the teeth surrounding the gap will move and try to fill up the space. This can cause problems with the bite and eating, as well as problems with speaking. In addition, erosion of the jawbone begins almost as soon as the tooth leaves the mouth.
By installing dental implants through a surgical procedure shortly after teeth have been removed, the jawbone will have less time to deteriorate, and the teeth won't get much chance to move out of their places. One reason the jaw does not continue to deteriorate is because the titanium of the surgical implant will begin to fuse with the bone. Because the implant holds the crown in place, the surrounding teeth are not able to move, and the bite is preserved.
In addition, the implant is strong and can function as a natural tooth should. It is usually matched in color to surrounding teeth, giving it a natural look. Most people cannot tell the difference between it and the natural teeth. To learn more about dental implants and dental implant cost, please visit newjerseylasergumdentist.com.
Margolin Dental Associates is a general practice offering patients personalized dental care Englewood Cliffs, NJ. Michael Margolin, D.M.D. received his B.A. in Economics from Ithaca College and earned a Doctor of Dental Medicine Degree from Fairleigh Dickinson University. After graduating he joined his father and his brother in a group practice where he has worked for the past 21 years. Dr. Margolin is part of one percent of dental professionals providing the most recent FDA cleared laser procedure for gum disease and periodontal treatment. To learn more about Margolin Dental Associates and their dental services visit their website at http://www.newjerseylasergumdentist.com and call (201) 399-4703.