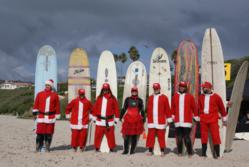 Dana Point, Calif (PRWEB) August 06, 2012
Dress like Santa, surf Salt Creek and raise money for children with Autism. The Ritz-Carlton, Laguna Niguel's Third Annual Surfing Santa Competition takes place at Salt Creek Beach Saturday, November 17 at 8 a.m. The Competition raises money for Surfers Healing and features a $1,000 prize for the Big Air "Flying Rudolph" category. There are additional prized in each category including Santa's Helpers (15 and under), Santa's Elves (16-20 year olds), Toymakers (ages 20+), and Yule Loggers (open long board). Entry fee is $40 per person in advance or $50 day of.
Surfers Healing seeks to enrich the lives of people living with autism by exposing them to the unique experience of surfing. Surfers Healing was founded by Izzy and Danielle Paskowitz. Their son, Isaiah, was diagnosed with autism at age three. Like many autistic children, he often suffered from sensory overload-- simple sensations could overwhelm him. The ocean was the one place where he seemed to find respite. A former competitive surfer, Israel hit upon an idea--with Isaiah on the front of his surfboard, and Izzy steering from the back, the two spent the day surfing together. Surfing had a profound impact on Isaiah. Izzy and Danielle decided they wanted to share this unique therapy with other children with Autism. They began to host day camps at the beach where autistic children and their families could be exposed to a completely new experience of surfing.
The Competition is part of The Ritz-Carlton, Laguna Niguel's CSR program, Community Footprints, and combined with the Annual Holiday Surfboard Auction, has raised more than $80,000 over the past four years for Surfers Healing. Community Footprints was created to encourage leadership in volunteerism, fundraising, product donations and mentoring programs at a local level. No project is considered too large or too small. Dedicated Ritz-Carlton Ladies and Gentlemen provide a wide range of support and services to their community, including fund-raising for local charities, reading to the blind, preparing and serving lunches at homeless shelters, donating books to schools and volunteering at food banks. The Ritz-Carlton Community Footprints stresses that the most important resource is not always money, but time.
Located halfway between Los Angeles and San Diego, The Ritz-Carlton, Laguna Niguel sits on a 150-foot bluff with panoramic white-water views of the Pacific Ocean and two-miles of sandy beach. The resort is a re-imagined surfside retreat that awakens guests' senses with its unique ocean-front setting and remarkable service heritage. As the premiere destination for travelers who desire a playful approach to Southern California luxury, the resort has been the recipient of many awards over the years. For more information or reservations call 800-241-3333, the hotel directly at 949-240-2000, a travel professional or visit the web site at http://www.ritzcarlton.com/LagunaNiguel
The Ritz-Carlton Hotel Company, L.L.C. of Chevy Chase, Md., currently operates 79 hotels in the Americas, Europe, Asia, the Middle East, Africa, and the Caribbean. More than 30 hotel and residential projects are under development around the globe. The Ritz-Carlton is the only service company to have twice earned the prestigious Malcolm Baldrige National Quality Award which recognizes outstanding customer service. For more information, or reservations, contact a travel professional, call toll free in the U.S. 1-800-241-3333, or visit the company website at http://www.ritzcarlton.com. The Ritz-Carlton Hotel Company, L.L.C. is a wholly owned subsidiary of Marriott International, Inc.