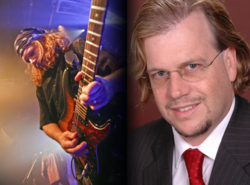 ...I was living my dream as a rock star but saw that so many others were being prevented from achieving theirs..."
Nashville, TN (PRWEB) August 07, 2012
As of August 15th, the undocumented children of illegal immigrants, now being referred to as "Dreamers", can begin the application and approval process to potentially receive legal status and a U.S. work permit.
Numerous law offices across the country are gearing up to offer consultations to people who may be eligible to benefit from Obama's new directive, but who don't want to potentially jeopardize themselves by signing up for the process. Immigration Attorney Sean Lewis, Senior Partner at Music City Visa in Nashville Tennessee, is a rock star-turned-attorney with a unique perceptive on the issue.
Sean Lewis attributes his less-than-conventional background to the passion that drives him to help Dreamers follow their dreams.
"I know what it's like to pursue a dream, and how challenging it can feel at times..." says Lewis, "...and I'm passionate about helping these young people achieve theirs."
Sean Lewis cleans up well. As a lead guitarist in a popular heavy metal rock band since the 80s, Lewis' standard garb included big hair, black leather and a whole lot of attitude. Nowadays, his hair is a whole lot shorter and he has traded in his guitar for a pen and a passion for helping unauthorized immigrants become citizens of the United States. And while he still tours occasionally, serenading his worldwide audience with fiery electric guitar solos, Lewis can mainly be found wearing a suit and tie at his law offices in Nashville, lovingly called Music City Visa.
"After college, I had an awakening..." Sean explains, "...I was living my dream of being a rock star but I saw that so many others were being prevented from achieving theirs, largely because they were victims of circumstance."
Music City Visa are now helping Dreamers figure out whether or not they can qualify for Obama's Deferred Action for Childhood Arrivals (DACA) Initiative, which will be accepting applicants as of August 15, 2012.
DACA is an Executive Order signed by President Obama last June that will give temporary relief to the sons and daughters of undocumented immigrants who were in danger of being deported from the United States. The Order decriminalizes the status of undocumented immigrants under 31 who meet the following requirements:

Are under 31 years of age but older than age 15
Came to the United States before they were 16 years old
Have lived in the United States for the last five years
Are currently in school, have graduated from high school, have obtained a general education development certificate, or are honorably discharged veterans of the Coast Guard or Armed Forces of the United States
Have not been convicted of a felony offense, a significant misdemeanor offense, multiple misdemeanor offenses, or otherwise pose a threat to national security or public safety
Despite his enthusiasm for Obama's Order, Sean Lewis also advises that "this order has not yet been passed through Congress and made into law" and "strongly encourages those seeking potential benefits under the DACA initiative to consult with an attorney before applying on their own".