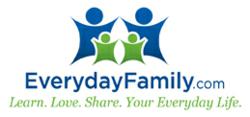 Los Angeles, CA (PRWEB) August 06, 2012
The EverydayFamily Room with Leigh Koechner features five highly sought-after specialists during this week's programming. Koechner gets crafty with Beth Callaghan, talks nutrition with registered dietician Kim Shapira and discusses the emotions of adoption with Beth Littleford. Koechner also gets a man's perspective on prenatal appointments from Bill Lloyd, author of "The Dudes' Guide to Pregnancy," and gets advice from Emily "The Travel Mom" Kaufman. To view these episodes and more, go to EverydayFamily.com and tune in to The EverydayFamily Room with Leigh.
"We are excited to have an ongoing relationship with the experts appearing on The EverydayFamily Room series," said Tony Golden, Executive Producer and Business Development Director for EverydayFamily.com. "They continue to deliver world-class preconception, pregnancy and parenting information for our viewers, and we couldn't be happier."
The EverydayFamily Room features parenting experts who are selected for their diverse, unique and life-enhancing information as part of its online TV programming.
About EverydayFamilyTV and EverydayFamily.com:
EverydayFamilyTV (EFTV) brings a daily dose of interactive parent talk with the launch of its first program, The EverydayFamily Room with Leigh Koechner, produced by its Emmy and Grammy award-winning production team. The online TV programming featured on EverydayFamily.com (EF) aims to bring EF members the very best information and entertainment through the knowledge of parenting experts, industry experts, celebrity parents and "Everyday" moms and dads.
EF is an online home and established resource to a growing community of over three million members who share their own everyday parenting experiences with those who are seeking guidance and support as they move through their family's journeys, from preconception, to preschool and beyond. The editors at EF, as well as the entire EF community, are dedicated to providing daily content for families seeking expert and parent advice, information and support… and to giving back to the communities supporting us.
For advertisers looking for sponsorship opportunities and creative integration that go well beyond banner ads and transition marketing messages in to an uninterrupted part of the user experience, contact Tony Golden, Business Development Director for EverydayFamily.com, at Tony(dot)Golden(at)EverydayFamily(dot)com.