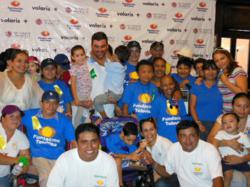 Cancún,Quintana Roo (PRWEB) August 05, 2012
Sunset World Resorts & Vacation Experiences, Volaris Airlines and Fundación Televisa invited Mauricio Mejía to participate in a get-together with kids taking equine therapy at Hacienda Andalucía, as well as accompanying two children whose dream was to see the sea.
In alliance with the Fundación Televisa program "Aquí Nadie Se Rinde" and Volaris Airlines, Hacienda Tres Ríos Resort, Spa & Nature Park opened its doors to Héctor de Jesús Becerril and Vanessa Cornejo Trejo (10 and 9 years of age, respectively) for some fun in the sun as an award for having the courage and tenacity to confront their illnesses.
Accompanied by the actor Mauricio Mejía, who's known for his roles in the stage musical, "Aventurera" as well as in the soaps, Los Exitosos Pérez, Mar de Amor, Cuidado con el Ángel and Ni Contigo Ni Sin Ti. These distinguished guests were received with gifts and surprises. There were also activities like making pizzas, taking a kayak ride down the river, participating in the Sense Adventure activity as well as taking a dip in the sea.
On the following day, Héctor and Vanessa joined a group of kids with disabilities in the equine therapy classes offered at Hacienda Andalucía. The actor from the Televisa Network helped stage contests as to who could make a horse using different objects, as well as a rally where they disguised themselves in costume and spent some time with their elegant, four-legged friends.
At the end of the visit, Fundación Televisa and Volaris gave presents to the children and raffled off two computers among those in the equine therapy class.
This is the second year in a row that Sunset World and Fundación Televisa have collaborated. Eloisa Arango, the Social Project Coordinator, states that the group will continue to support noble causes, like those in favor of the welfare of the boys and girls of México.