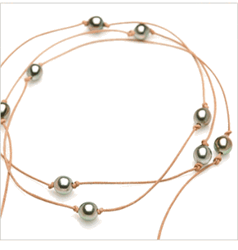 New York, NY (PRWEB) August 03, 2012
As mid-summer falls upon us, the temperatures are heating up and the newest women's summertime fashions are shimmering down the streets of New York City and the beaches of the Caribbean. American Pearl is proud to present the most coveted women's summertime fashion accessory of the season – the St. Barts pearl and leather necklace collection.
These stunning, one-of-a-kind (moving pearl) pieces were inspired by one of American Pearl's distinguished pearl designers after a trip to the Caribbean hotspot of St. Barts. There, the designer witnessed an electrifying sight that was destined to become the next summer and beach fashion trend here in the States. The illuminating contrast of the brilliantly colored pearls(moving freely) against the stark leather grain, worn by the fashionistas along the beaches in St. Barts, instantly inspired the American Pearl designer to create a line destined to become an instant hit and a future generation classic.
Today, American Pearl is pleased to introduce what the company calls its "most successful high fashion line we created that is outselling all other product categories for summer fashion." This dynamic new St. Barts pearl and leather necklace women's summertime fashion line includes a rainbow of leather cord choices, and extraordinary, iridescent pearls from exotic locales such as French Polynesia, Australia, Japan, China and Indonesia.
American Pearl's unique, fashion-forward St. Barts pearl and leather necklace line includes:
*Single Pearl and Cord Necklaces
--a single beautiful pearl suspended along a light and airy leather cord
*Single Pearl and Cord Sets
--a double contrasting layer of single necklaces that "pop" off of the neck
*Triple Pearls and Cord Necklaces
--three breathtakingly beautiful pearls on one leather cord
*Pearl and Cord Trios
--a triple-play of sparkling pearls on three complementary yet contrasting cords
*Double Pearl and Cord Sets
--two gorgeous pearls set apart on two separate cords
*Leather and Tin Cup
--a mesmerizing, 8mm freshwater, hand-knotted pearl necklace
*St. Barts Ropes
--a magnificent, cascading, 55-inch necklace with multiple freshwater Tahitian pearls
*St. Barts Necklaces
--an understated and elegant high-luster, showstopping pearl and leather necklace
*Pearl and Leather Bracelets
--a charming solo, multiple or dangling pearl bracelet showcasing true St. Barts style
More information can be found by visiting their showroom or browsing their secure website.
About American Pearl:
In business since 1950, American Pearl has become synonymous with unsurpassed pearl jewelry designs. Always a leading innovator and trend setter, American Pearls unwavering commitment to providing you with the absolute best pearls at the absolute best prices has consistently put them in the forefront of the pearl jewelry business for over half a century.
For more information, please visit http://www.americanpearl.com/affordable.html.