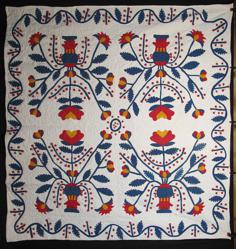 this quilt is actually one of three made by sisters, out of the Frederick Maryland area
Eastern Shore, DE (PRWEB) August 04, 2012
On Thursday, August 3, 2012, Estate Auctions Inc. announced the opportunity for a lucky high bidder to own a very rare quilt with the bid starting at .99 cents. Days after the auction began Estate Auctions Inc. learned more about this unique item.
" We were tickled to have an expert on this quilt contact us. She had the history of this quilt and we were happy to find out that this quilt is actually one of three made by sisters, out of the Frederick Maryland area." says Norb Novocin, owner of Estate Auctions, Inc.
Three Pot of Flowers quilts from the same Maryland family have turned up at sales of cousins' estates in the last decade. According to family history these quilts were made by sisters Mary Catherine (Marker) Shank (b. 1867) and Sarah Ann (Marker) Smith Rowe (1883-1965) in the early 20th century.
(See it on Facebook) (See it on eBay)
This auction closes Monday, August 6th at approximately 10:00 PM EST. Interest in this rare quilt continues to increase as the closing draws near. Nearly 70 pictures of the quilt can be seen at EstateAuctionsInc on eBay and a video can be found on YouTube which has many detailed close up views.
Rare and unusual items are the norm for the Novocin's. They continue to satisfy the taste of a loyal customer base and have even published a book about these experiences. Getting Sold On Ebay, The Treasure Hunter's Guide To Making Money, which has received stellar reviews and is receiving national attention.
To learn more about the Novocins and Estate Auctions, Inc. visit them on eBay, user ID EstateAuctionsInc or follow them on Twitter @KnowsEbay. Do you have a valuable antique you would like to sell on eBay? Call for consigning information at 1-800-573-3508. You can find their new book Getting Sold On Ebay, The Treasure Hunter's Guide To Making Money at http://GettingSoldOnEbay.com or Amazon.com.