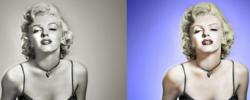 There are many mysteries about Marilyn Monroe. But why her face was the most photographed ever isn't one of them.
New York, NY (PRWEB) August 04, 2012
Marilyn Monroe's face was like a mobile Hollywood Red Carpet event. It featured an exciting collection of breathtaking stars in one place, choreographed and prepared to perfection for showcasing to all the world to see, photograph, and admire.
"There are many mysteries about Marilyn Monroe. But why her face was the most photographed ever isn't one of them, " says Sally Hayes, leading permanent makeup expert who specializes in natural-looking enhancements of the appearance of women's lips, eyebrows, and eyeliner. "Her lips were those of a sex goddess. So were her eyes. You could say the same for her platinum blonde hair, beauty mark, and of course her full-figured body. Each of these features alone created amazing sex appeal and star power. Put them all together, especially in that golden era of Hollywood, and you have a one of a kind beauty legend."
50 years after Monroe's death, Hayes regularly has women seeking her professional permanent makeup services in New York, Los Angeles, Las Vegas, and Scottsdale, wanting her help to unleash their "Inner Marilyn." From those in their late teens to those in their late sixties, they dream of an everyday cosmetic solution for wearing Marilyn Monroe's eyebrows, eyeliner, lips, or beauty mark on their own face. This popularity supported Hayes' idea for a tribute exploring a Marilyn Monroe Makeup Makeover using today's cosmetic tattooing techniques.
"What woman wouldn't dream of looking like her? But personally I've dreamed more of having an opportunity to work with her," admits Hayes. "Imagine being able to refine a customized look for bringing out the best in her facial features, and making her daily makeup routine so much easier. Having Marilyn Monroe as a client would be like my version of winning an Oscar for permanent makeup."
Hayes wanted to answer the question, "What would Marilyn Monroe look like today with modern cosmetics?" Since she couldn't do it live and in person, Hayes had to settle for doing it digitally. Here are the highlights from her research, imagination, sketches, and graphic illustration:
Marilyn Monroe Makeup Makeover 50 Years Later by Sally Hayes

Marilyn Monroe Beauty Mark: I would move it straight down the left side of her face to just across from and below her bottom lip. A beauty mark draws attention to an area. I would have suggested to Marilyn it was better to move the attention from the naturally round shape of her face, and shift more focus to the amazing, sexy, luscious look of her lips.
Marilyn Monroe Lips: Since she was the "Queen" of red lipstick and modern day lip gloss with her provocative, wet lips look, I would have been basically only messing with perfection. The only thing I would have suggested to Marilyn is we make the sides of her bottom lip bigger and wider to match her upper lip. This would make her mouth more pronounced, adding balance to the plump, pouty look she wanted for her lips."
Marilyn Monroe Eyebrows: Her eyebrows greatly accentuated her face and added a great deal of expression to it. Given her beauty, I would have suggested to Marilyn the area between her platinum blonde hair and captivating eyes didn't need so powerful. I would have slightly increased the thickness of her eyebrows in the front near her nose. I also would have also moved the arch further out slightly and made the ends slightly longer.
Marilyn Monroe Eyelashes: Here I would have simply suggested Marilyn could ditch the fake long eyelashes and in only a few weeks grow her own long, beautiful eyelashes with Latisse.
Marilyn Monroe Eyeliner: It's widely reported Marilyn had beauty secrets she didn't even share with her own full-time makeup artist. Here, I would have wanted to share my permanent eyeliner secret with her. My technique which I created years ago with the help of prominent plastic surgeons is to apply permanent eyeliner along the lash line and underneath, unlike traditional topic makeup. This would help Marilyn greatly because of how she would have aged around the eyes. I see every woman's eyes as a unit, and we never want them looking washed out or us looking tired. Instead, we would have caused Marilyn's eyes to sparkle or pop even more.
"The thrill for me in doing permanent makeup is handing a woman a mirror after a procedure and watching the big smile on her face as she's her new look for the first time," says Hayes. "I strive so much for facial symmetry and balance to help women look more vibrant, more beautiful, and even more youthful. 50 years later, I believe this Marilyn Monroe Makeup Makeover could have done all that for her in addition to saving her tons of time and effort."
About Sally Hayes Permanent Makeup
Sally Hayes is widely recognized as the nation's premiere permanent makeup artist. Since 1988, she has performed tens of thousands of successful cosmetic tattooing procedures of permanent eyebrows, permanent eyeliner, permanent lip makeup and cosmetic camouflage. She specializes in undetectable permanent makeup which is natural-looking in enhancing the natural beauty and features of everyday women, business professionals, and celebrities.
To see the complete Modernizing Marilyn Monroe Series, visit http://www.permanentmakeup.com.
Contact Information:
Sally Hayes Permanent Makeup
(inside the offices of Tribeca Plastic Surgery)
44 Hudson Street
New York, NY 10013
(718) 644-2366