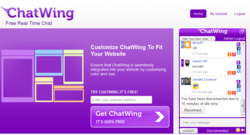 New York, NY (PRWEB) August 04, 2012
As the hype for the 2012 Olympics is raging on, many bloggers have now started sharing their thoughts and updates. In line with this, Chatwing development team has launched a website chat box that can help Webnode Olympic bloggers and fans connect with each other. This chat application excels in bringing people close together and can also bring streams of visibility for many blogs. Users of Chatwing app can also rely on social media integration to expand their social networks.
According to the research of the Chatwing dev team, the Webnode community is growing, especially now that the Olympics is attracting thousands of people across the globe. The event has made Chatwing's free chat box a valuable application that can be used by everyone. Chatwing also allows its users to log in with their social media accounts, such as Facebook and Twitter. This accessibility has enticed a lot of Webnode users, and bloggers from other communities as well.
Many bloggers have remarked that the installation of the Chatwing free shout box saves a lot of time. Chatwing's developers have noted that the average installation time of a Chatwing app takes only twenty seconds or less—depending on the preferences of the user. The customization process takes a large chunk of time because a user tends to mull over the size and appearance of the widget he wants to use. Chatwing's chatbox can also turn a blog into a 'lounge' where visitors can discuss things. A single Chatwing chatroom has a 600-user capacity.
The Chatwing free chat widget—recently—is now being filled with discussions regarding the 2012 Olympics. Aside from Webnode users, bloggers from Livejournal and Webs are now relying on Chatwing when it comes to proper delivery of information. To ensure that users will experience flawless website chat, Chatwing developers are working hard in tweaking the chat platform.
About Chatwing.com
Chatwing.com specializes in the new field of website chat. Over years, the Chatwing team has introduced live chat widget for hundreds and thousands of blogs. The Chatwing application bridges people from many parts of the world, creating global synergy through the Internet. The shout box can be installed in just seconds, and it can be used for varying purposes such as leisure and Internet marketing. It also allows a user to customize the size, color, and name of the widget. Chatwing is 100% free for everyone.