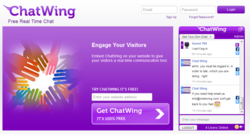 Dallas, TX (PRWEB) August 05, 2012
Event streaming websites are now gaining popularity because of the convenience they can offer. Instead of switching televisions, people can now browse the Internet while watching the events they like, such as the 2012 Olympics. Chatwing offers a form of entertainment for web surfers who dig event streaming: website chat. Recently, the Chatwing dev team launches a chat box that can provide global communication for thousands of websites.
According to Chatwing's research, web surfers tend to talk about the events they recently watched. After watching from an event streaming site, web surfers transfer to a chat blog where they will often share what they watched. Chatwing's developers believe that this process is tedious, and a free chat box can make things easy. By installing the Chatwing shoutbox in a blog or website, web surfers can now watch events and talk about them—at the same time. In this way, visitors can discuss the focal points of the event and share their opinions. In turn, this will increase the rate of activity of the blog. The Chatwing free shout box also allows social media integration—Bloggers and visitors can now log in with their Facebook or Twitter accounts.
Because of its versatility, the Chatwing chatbox has been used in different blogging communities across the Internet. This has contributed to Chatwing's global rank. Bloggers have observed that their blogs had spikes of visibility ranging from forty to eighty percent after installing the Chatwing chat app. The rate of visibility depends on the recent content of the blog and the way the blogger interacts with their visitors. Chatwing also has a 600-user capacity, and the developers are planning to upgrade it to 1000.
Chatwing is dedicated to help web surfers experience the joy of communication while watching interesting and phenomenal events. In line with this, the Chatwing free chatbox can ensure that the online presence of a website will go on all-time high. In the coming months, the Chatwing team is planning to introduce the chat box to other famous online sectors.
About Chatwing.com
Chatwing.com specializes in the new field of website chat. Over years, the Chatwing team has introduced live chat widget for hundreds and thousands of blogs. The Chatwing application bridges people from many parts of the world, creating global synergy through the Internet. The shout box can be installed in just seconds, and it can be used for varying purposes such as leisure and Internet marketing. It also allows a user to customize the size, color, and name of the widget. Chatwing is 100% free for everyone.