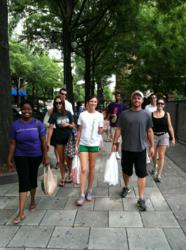 "Identify Yourself has been searching for a good cause to support increase their reach to a humanitarian sector, and we believe together we can have a lasting impact."- Mike Spencer
Charlotte, North Carolina (PRWEB) August 06, 2012
Doing My Part is excited to announce that they will be teaming up with Identify Yourself to increase upon their marketing campaigns. Identify Yourself has been known for their successful promotional products and a merchandising business that brings light to small businesses and corporations alike. They will be working together to create new promotional products and build their community based causes in North Carolina.
Doing My Part founder Mike Spencer stated, "Identify Yourself, being a company dedicated to building our local communities, saw doingmypart.com as a great opportunity to attach it's brand with a growing non-profit organization that's doing exactly that." The new partnership will be effective immediately and both Doing My Part and Identify Yourself are excited about the possible outcomes.
Doing My Part co-founder Mike Spencer and Identify Yourself Vice President Joseph Ausband met last week in Kitty Hawk, NC to figure out a way that the two companies could work together in the future. After an exciting discussion, the two decided to create a one of a kind and mutually beneficial marketing campaign to increase effectiveness. At the core of this plan is the addition of promotional products and merchandise for Doing My Part and co-branding opportunities for Identify Yourself. This will help the get the word out about the new exciting things happening at Doing My Part and create a stronger brand image for both companies.
Identify Yourself is known for their ability to create promotional marketing campaigns that raise brand awareness. Spencer went on to say that "Identify Yourself has been searching for a good cause to support increase their reach to a humanitarian sector, and we believe together we can have a lasting impact." Identify Yourself sees Doing My Part as the perfect cause to team up with because of their growing national appeal.
Doing My Part is a non-profit organization with the mission of "transforming the way the world gives back". Doing My Part gives anyone the chance to become a Hero through a minimal $3 automatic monthly donation. To see more information visit the website, go to the facebook page or see the previous press release here.
####
-Caroline Campana
Freelance PR Strategist
campanapr(at)gmail(dot)com