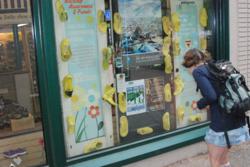 We love that Patagonia brought the Pedestrian Shops, CRC, middle school kids, and artists together to promote conservation.
Boulder, Colorado (PRWEB) August 12, 2012
The Pedestrian Shops of Boulder, working with the Center for ReSource Conservation, has been named the Spring 2012 Best Campaign Winner by Patagonia Footwear for the company's spring Advocate Weeks, a national campaign promoting local conservation efforts.
The Pedestrian, located in downtown Boulder for over 40 years, features the world's leading brands of comfortable shoes, other Walkwear and Walkware, as well as books on where to walk in the Boulder area and men's and women's travelwear.
The Pedestrian Shops chose CRC as its nonprofit partner, focusing on Earth Day since both organizations traditionally hold Earth Day events. CRC's objective is to help empower individuals to turn natural resource conservation beliefs into action in their daily lives.
Pedestrian Shops holds an annual Earth Day shoe drive, where donated shoes are given to local organizations for reuse or recycling, and CRC organizes an Earth Day 5K race. Pedestrian also joined CRC in supporting BOLD Doors, a community arts initiative and upcycling event. All those projects were combined in the promotion.
Patagonia Footwear partners with 1% for the Planet, Patagonia stores, and participating retailers such as Pedestrian, raising awareness and funds for local conservation efforts. 1% for the Planet is a global alliance of more than 1,400 companies donating one percent of revenues to organizations working for a healthy planet. Members from 44 countries worldwide have given more than $70 million to environmental causes since 2002.
Patagonia Footwear donated $10 to CRC for every pair of Patagonia shoes purchased at Pedestrian during the events.
In Boulder, the Pedestrian Shops also donated 5 percent of the amount of customers' purchases to the CRC if they brought in a pair of shoes for the Earth Day shoe drive. Used shoes were also collected at CRC's Earth Day 5K. Shoes collected went to One World Running and the Deacon's Closet in Boulder.
For BOLD Doors, CRC worked with local artists the Scrap Sisters and local schoolchildren to create a display for Pedestrian Shops' downtown store window. They decorated three old doors with old shoes, conveying a message about recycling, reuse, and collaboration among organizations.
The project was promoted through social media, email marketing, newspaper advertising and in calendars and news items in other media. Richard Polk, owner of the Pedestrian Shops, was interviewed on Denver's 9News about the collaboration.
"We love that Patagonia brought the Pedestrian Shops, CRC, middle school kids, and artists together to promote conservation," Polk said.
As a winner for best execution, CRC received an additional $500 donation from Patagonia Footwear.
"Your conservation efforts are greatly appreciated and we know you will continue with great success," a Patagonia spokesman wrote to CRC. The Pedestrian Shops was praised for engaging its consumers and organization to make the program a success.