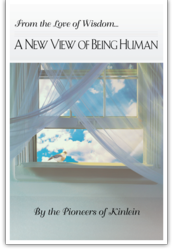 This is the first book to be written by the first learners of the theory upon which the profession of kinlein is based.
ANCHORAGE, Alaska –
(PRWEB) August 16, 2012 -- At conception every human being is endowed with a power to take action in living life. This is the power of the ultimate yes or no; it is profound and the use of it can change the world. This bold assertion is the centerpiece of a new book,"From the Love of Wisdom … A New View of Being Human." This is the first book to be written by the first learners of the theory upon which the profession of kinlein is based. This profession, founded by M. Lucille Kinlein in 1979, has the potential to impact how humans interact and how they conduct themselves in all aspects of life, freeing themselves from prejudice and other restraints to be true to themselves, notes the book's introduction.
"A New View of Being Human" features in plain language a description of the complex processes that make up this power. Kinlein observed a phenomenon, "a kind of gold inside of people," which has come to be defined as "that moving power in every human being to take action in living life on a day-to-day basis," the first chapter notes. Kinlein's desire to help others allowed her to focus on the power each person has to control his or her actions and take responsibility for those actions while recognizing the innate dignity of every person.
Each chapter features one aspect of the theory of kinlein, from the universal source of life and knowledge to the routes of knowing: intuition, inspiration, vision, thought and dream. Later chapters explore ever-expanding topics like, what am I doing with who I am? Ultimately, the book aims to inspire others to consider what it means that persons can change their minds, change their attitudes, change their actions, at any point in their lives. "Every threshold of understanding reached opens new vistas to explore," the authors write. "No human being can ever see the full picture of life and how intricately one person's life is interwoven into that whole."
The 13 authors live in various states throughout the country from Alaska to Connecticut. They are considered pioneers because they are the first learners to study the theory of kinlein, the first to become certified and qualified to teach the theory. Without the contributions of each one, the book could not have been written. Kinleiners Grace Bates, Mary Bolin and Loretta Ulmschneider were selected as editors to review the chapters and coordinate the material for publication. Bates, of Old Saybrook, Connecticut, has a master's degree from the University of Hawaii and learned about M. Lucille Kinlein while a graduate student and became certified in 1983. She opened the first practice of kinlein in Hawaii. In addition to her private practice, Bates has used the theory of kinlein in assisting organizations in her community. Bolin has a master's degree in nursing from Montana State University and became certified in the practice of kinlein through the Institute of Kinlein in Hyattsville, Maryland. She has been in private practice in Anchorage for more than 30 years and teaches classes using the kinlein framework. Ulmschneider has a bachelor's degree and is a qualified Montessori teacher. She is certified in the practice of kinlein and has studied this theory of teaching, applying it in many settings in her community of Wausau, Wisconsin. All of the editors serve on the faculty of the Institute of Kinlein.
----------
For additional information, please visit http://www.kinleinauthors.com.
From the Love of Wisdom: A New View of Being Human
The Pioneers of Kinlein
Dog Ear Publishing
ISBN: 978-1-4575-0706-9 128 pages $11.99 US
Available at Ingram, Amazon.com, Barnes & Noble and fine bookstores everywhere.
About Dog Ear Publishing, LLC
Dog Ear Publishing offers completely customized self-publishing services for independent authors. We provide cost-effective, fast, and highly profitable services to publish and distribute independently published books. Our book publishing and distribution services reach worldwide. Dog Ear authors retain all rights and complete creative control throughout the entire self-publishing process. Self-publishing services are available globally at http://www.dogearpublishing.net and from our offices in Indianapolis.
Dog Ear Publishing – self-publishing that actually makes sense.