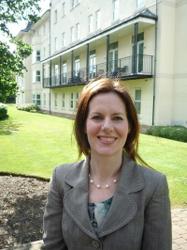 The regulations affecting property management are becoming increasingly complex, making self management much less attractive to both freeholders and leasehold apartment owners.
(PRWEB) August 09, 2012
Specialist block management company BlocMan has announced the appointment of Claire Hollywood as Legal Services Director. Designed to add critical legal expertise to the BlocMan team, the announcement comes at a time of strong growth in the business.
A qualified solicitor with a decade of experience in the property and legal industry, leveraging her special expertise in property management law, Claire will advise BlocMan on the interpretation of leases and legislation, and ensure that the management service is carried out in accordance with current regulations and the RICS 'Service Charge Residential Management Code of Practice'. Claire will take responsibility for overseeing the increasingly popular right-to-manage (RTM) process, which allows flat owners to collectively force their landlord to hand over control of the management to them.
After obtaining her law degree at Queen Mary and Westfield College, the University of London, Claire went on to complete the Legal Practice Course at the College of Law in London. Her legal career began with a training contract at prominent Tunbridge Wells law firm Cripps Harries Hall and she qualified as a real estate solicitor in 2004. Since then, Claire has worked as a real estate solicitor for City law firm DAC Beachcroft LLP and Kent firm Vertex Law LLP.
Commenting on her recent appointment, Claire said: "I'm delighted to join BlocMan at an exciting time for the business. We're growing fast to meet robust client demand and I'm looking forward to playing a key role in that expansion. BlocMan was originally set up in response to widespread frustration with the quality of service and charges that are imposed on properties by many block management agents – with leaseholders often left counting the cost. At BlocMan, we're dedicated to raising the bar on the quality of service that block managemen t agents provide in the South East – providing a reliable, customer-focused and professional service to landlords and flat owners."
BlocMan carry out the management of estates and blocks of apartments in Kent, Sussex, Surrey and London.
To find out more about how BlocMan can help with managing your residential block, visit http://www.blocman.co.uk