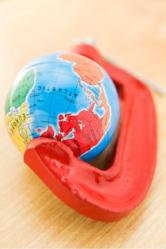 "Japan is an export-based economy, and the lack of global economic growth is hurting it dearly," observes Esposito. "One piece of disturbing evidence was the fact that for May, machinery orders fell by the most in a decade."
New York, NY (PRWEB) August 05, 2012
In a recent Investment Contrarians article, editor Danny Esposito argues that Europe and China's central banks cutting interest rates and the U.K.'s expanding money-printing underscored the worry about economic growth worldwide. Esposito believes investors should be paying attention to less talked-about economies, which are signaling not only the lack of economic growth, but also a possible global recession on the horizon.
"Japan is an export-based economy, and the lack of global economic growth is hurting it dearly," observes Esposito. "One piece of disturbing evidence was the fact that for May, machinery orders fell by the most in a decade."
He notes that while all the headlines were about the U.K.'s money-printing announcement, South Korea initiated a multi-billion-dollar spending program to help jumpstart its economy.
According to Esposito, South Korea's gross domestic product (GDP) grew 6.3% in 2010 and 3.6% in 2011.
Now the country has cut its estimate for 2012's GDP growth from 3.7% to 3.3%, according to the Investment Contrarians editor, with that number admittedly in jeopardy. "With this spending initiative, the government is clearly worried that economic growth is falling much too quickly," comments Esposito.
Due to slowing export growth, Indonesia, whose GDP grew by 6.5% in 2011, cut its GDP growth to 6.3% in 2012, and cited the possibility of cutting estimates even further since export growth was falling quickly due to waning global economic growth, reports Esposito. Once again, the pace of the decline is indicative of a recession-type environment, he asserts.
Vietnam cut its interest rate for the fifth time this year to help businesses struggling in this slowing economic growth environment, cites Esposito.
Hong Kong's economic growth, as represented by GDP, grew 5.0% in 2011, but considering the slowing global economic growth, just a few weeks ago, the GDP forecast for 2012 was slashed to just 1.0%–3.0%.
As this all outlines, the rate at which economic growth is falling is so fast that a recession is becoming a real possibility, concludes the Investment Contrarians editor.
To see the full article and to get a real contrarian perspective on investing and the economy, visit Investment Contrarians at http://www.investmentcontrarians.com.
Investment Contrarians is a daily financial e-letter dedicated to helping investors make money by going against the "herd mentality."
We believe the stock market and the economy have been propped up since 2009 by artificially low interest rates, never-ending government borrowing and an unprecedented expansion of our money supply. The "official" unemployment numbers do not reflect people who have given up looking for work and are thus skewed. We believe the "official" inflation numbers are also not reflective of today's reality of rising prices.
After a 25-to-30 year down cycle in interest rates, we expect rapid inflation caused by huge government debt and money printing will eventually start us on a new cycle of rising interest rates.
Investment Contrarians provides unbiased research. We are independent analysts who love to research and comment on the economy and investing. Our parent company, Lombardi Publishing Corporation, has been in business since 1986. Combined our economists and analysts have over 100 years of investment experience.
See where we see the risks and opportunities for investors in 2012 at http://www.investmentcontrarians.com.