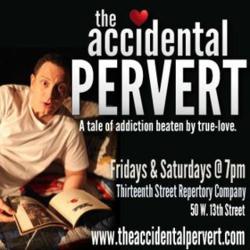 "The Accidental Pervert is one of those hidden gems of New York theatre" - Liz Hoffman
NYC, New York (PRWEB) August 14, 2012
Andrew Goffman, writer and star of the off-broadway play The Accidental Pervert, is seeking professional help. Although he says he is confident that the material in his show strikes a balance between funny and irreverent, he feels the time has come to enlist the help of some of NY's best and brightest in the field of sex therapy.
"The Accidental Pervert tells the redemptiive story of a man battling sex addiction, and trying to come to terms with the relationships in his life," says Andrew. "Sex therapists are the ones who know the most about this condition and how to help those people afflicted."
Andrew hopes that by sharing his experience with others in an open, comedic manner he can shed some light on an issue that is often very difficult to talk about. "It's not just for sex therapists, I want to invite all relationship therapists to come and see my show for free," he says. "The best part about it is, they get an evening of free entertainment, and at the same can examine a real life case study."
The Accidental Pervert is one of the more unique offerings of off-Broadway theatre. "The play is a comedy, but there is a serious message too," Andrew explains. "I offer the audience a window into my personal journey through addiction and obsession, and how I overcame it to finally find meaningful relationships. Isn't this what everyone is looking for?"
Any sex or relationship professional interested in seeing the show, and meeting Andrew should contact him via The Accidental Pervert website.
-------------------------------------------------------------------------------
The Accidental Pervert is a laugh-filled show with a serious underlying theme. For three years, Andrew has been entertaining sold out crowds with the story of what happened after he found his Dad's stash of adult videotapes when he was eleven years old. He takes the audience on a comic journey through his porninfluenced eyes, to reveal how his exposure to pornogrpahy overshadowed his relationships with women for many years, until he finally became a loving husband and father. The play is also running in Buenos Aires, starring the popular Argentine comic, Cabito.
The show runs every Friday and Saturday night at 7pm at The 13th Street Repertory Company in NYC.
For tickets and more information about The Accidental Pervert, visit http://www.theaccidentalpervert.com