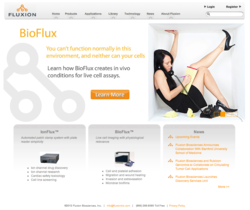 HiveMind Marketing was an easy choice for us, given its strong background in biotech marketing, and focus on both lead generation strategy and comprehensive analytics.
San Jose, CA (PRWEB) August 07, 2012
HiveMind Marketing, a strategic digital marketing agency specializing in high tech and biotech B2B marketing, has been retained by emerging Bay Area biotech company, Fluxion BioSciences, to provide consulting on a broad range of marketing initiatives, including lead generation, lead nurturing, email, organic and paid search, blogging and social media. The firm will also work on Fluxion's website information architecture and suggest revisions to website design to increase effectiveness and ROI.
Fluxion Vice President of Marketing, Tom Driscoll, comments, "HiveMind Marketing was an easy choice for us, given its strong background in biotech marketing, and focus on both lead generation strategy and comprehensive analytics. We are marketing to a very specific subset of the population, so we wanted a partner that understood the nuances of our market and the unique challenges presented by it. We also wanted a firm that could guide us in selecting and implementing the most appropriate tactics/mechanisms to reach that audience."
The agency's first order of business was to assist Fluxion in selecting and implementing a content management and marketing automation platform. Based on HiveMind's recommendations, Fluxion selected Marqui, a content management system with built-in marketing automation features and integration with SalesForce.com. This unique platform will also help Fluxion measure the effectiveness of their marketing efforts.
HiveMind Marketing principal, Tom Lauck notes, "Migrating Fluxion's website to the new CMS is only the first step of this process. We think it will be a great springboard for our upcoming marketing efforts." Plans for the near future include refining Fluxion's website and their paid and organic search programs to significantly increase traffic, qualified leads, and sales conversions. The agency will also be identifying key metrics for analysis to ensure Fluxion's marketing efforts show continual improvement.
Fluxion is depending on HiveMind Marketing's 25+ year track record of blending strategy, creativity and technology to deliver results for planned new product launches. The company's preliminary strategic plan, analyzing Fluxion's unique marketing proposition and competitive position, has helped identify key audiences, communication channels, and social interlinks. The agency will then leverage a combination of inbound and outbound digital strategies, tactics, and tools to increase demand — and qualified leads — for Fluxion brands, products, and services.
About Fluxion BioSciences, Inc.
Founded in 2005, Fluxion BioSciences creates innovative analytical instruments for functional cell-based assays, including its award-winning BioFlux for live cell analysis under shear flow, and IonFlux system for automated patch clamping (recipients of R&D Magazine's 100 Award in 2008 and 2010 respectively). In addition to its core product lines, Fluxion is also engaged in cutting-edge research to produce the next generation of breakthrough technologies. It is the recipient of several research grants from the National Institutes of Health to develop platforms for critical disease research areas. Fluxion's customers include biotech and pharmaceutical companies such as Johnson & Johnson, Pfizer, and Genentech, leading academic institutions such as Harvard, Stanford and Cornell, as well as government research organizations such as NIH, Walter Reed, and Lawrence Berkeley Labs. For more information, please visit: http://www.fluxionbio.com/, or call: (866) 266-8380.
About HiveMind Marketing, Inc.
HiveMind Marketing is a Silicon Valley-based digital marketing agency with special experience and expertise working with high tech and biotech organizations. The agency's unique inbound marketing approach is gaining traction among B2B Fortune 1000 businesses.
Rather than coming into prospective clients with a cookie-cutter plan that applies traditional marketing techniques and isolated tactics, HiveMind Marketing develops a strategic marketing plan for each client identifying and executing the specific tactics needed to deliver measurable results for their business. Tactics include inbound marketing, content marketing, social media, web design, email, and search, all backed by comprehensive analytics.
HiveMind Marketing's clients include such companies as AB Sciex, Symmetricom, Amulet Technologies, Guava Technology, Trend Micro, Pathlore, SFL Data, Molecular Devices and Johnson & Johnson. For more information, email strategist(at)hivemindinc(dot)com or visit the website at http://www.hivemindinc.com.
Contacts: Ellen Strzalkowski, 408-418-4620