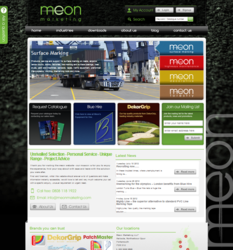 Our new online system has been fantastic, giving customers the latest online supply system with simple ways to view and order products and showing customer specific pricing. Darren Gill, Castle Trading
Portsmouth, Hampshire (PRWEB UK) 7 August 2012
Portsmouth based IT firm Radweb has seen a marked upsurge in demand for creative eCommerce websites by local trade companies, as difficult times force companies to look for more efficient ways of doing business.
The boom in online shopping is a continuing trend and now trade-only companies like Meon and Castle Trading are beginning to see the benefits of using online catalogues and stores as they look for ways to make their business more efficient.
Steve Rad, managing director of Radweb said: "In these tough economic times Trade companies need to be smarter and look to save money wherever they can.
We've seen more and more companies ditch the traditional printed catalogues as products and pricing can become out of date quickly and reprints are expensive. Online, all these kind of updates are instant and more importantly cost free.
When you add in the marketing aspect you can be much more responsive to the needs of your customers with instant online promotions, individual price lists, special offers and features like 'favourite items'."
Darren Gill from Fareham based Castle Trading said: "Our new online system has been fantastic. It gives customers the latest online supply system, simple ways to view and order products and uses customer specific pricing. They also get access to all their ordering history and template products, taking the ease and accessibility of online procurement to a new level."
To survive difficult economic times, it's critical that companies make it easy for the customers to buy from them. eCommerce stores save the customer time and money by allowing full access to a huge range of products without the cost of travelling to a depot.
Like everyone, trade customers want great service at the best price. Offering this online is the best step a business can take to make themselves as recession-proof as possible
Phil Spencer, from Portsmouth company Meon said: "We deal with so many industries and have so many products I've forgotten how we got by without the eCommerce website! The website gives people a way to view our brochures, see our products, and place orders. It saves us and the customers time by automatically working out discounts based on order quantities."
Notes to editors:
http://www.radweb.co.uk
http://www.meonmarketing.com
http://www.castletrading.co.uk
For further information please contact Steve Rad:
07719 532018
steve(at)radweb(dot)co(dot)uk
Portsmouth, UK Office:
+44 (0)33 33 444 505
12 Acorn Business Centre,
Northarbour Road,
Portsmouth,
PO6 3TH