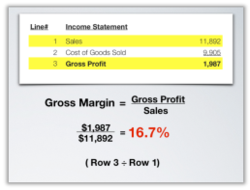 San Luis Obispo, CA (PRWEB) August 07, 2012
An introductory series of videos on financial statement analysis is now available for free at http://www.kgaction.com/financial-statement-analysis/introduction/. The videos explain the income statement, balance sheet, and cash flow statement. Over one dozen ratios for analyzing financial information are also discussed. Calculations and definitions for each ratio and term are provided and is also available in a free downloadable eBook.
The videos also cover different methods for interpreting financial ratios and other financial analysis techniques. The information is designed for anyone who is interested in this topic. Some of the commentary is targeted towards credit managers who are responsible for determining the level of credit to provide to customers. These videos are based on programs that Dean Kaplan has presented to credit manager groups sponsored by Riemer Reporting, Dun & Bradstreet, and NACM (National Association of Credit Management).
"During the debt collection process, we often use financial statement analysis to understand a company's ability to pay outstanding accounts receivable" says Dean Kaplan, President of The Kaplan Group. "We can negotiate better outcomes for our clients using the information. We are pleased to be able to share these insights with a larger audience by making this information available on the web."
About The Kaplan Group
The Kaplan Group is a boutique commercial collection agency founded in 1991. The company only handles B2B debt and has unique expertise for large claims. The Kaplan Group has a long history of providing educational programs and material to the credit industry. They can be reached at 805-541-2639 or info(at)kgaction(dot)com