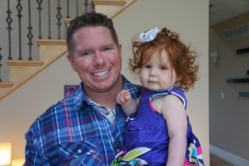 Edwardsville, IL (PRWEB) August 06, 2012
According to a recent study conducted by Geekaphone, an online resource that researches the mobile gaming industry, the mobile gaming industry is predicted to reach $54 Billion by 2015, but a local entrepreneur named Chris Luck says he plans to take the app world by storm through innovative apps that are totally different from anything that has been created.
"I have been a hardcore gamer ever since the first release of Atari," said Luck, the creator of a new app development company called Appiteks.
Luck explained that although he has a love, passion, and drive for apps and games, what he really wants is for potential customers and users of his games to know exactly who he is.
"I want everyone who downloads my app to know who I am," he said, before adding, "That is very important to me. As a child growing up, my parents always had the latest game consoles in our household, and the best bonding experience I had in my youth with my father, was completing my homework and chores around the house so that I could play games with him at night before bed. He would always beat me and still does to this day."
Lucks decision to enter the app world could prove to have perfect timing. More than 84 percent of tablet owners play games.
"Along with being a gamer, comes the dream I've always carried along with me of
building my own game company," Luck said. "Of course, I never really had the capital to do such a thing, nor the time."
Fast forward to today, Luck said, "And I have been an extremely successful full-time entrepreneur on the Internet and finally have the budget and the window of opportunity with the boom of the app store and mobile devices to dive into the gaming industry."
But before Luck's success came a set of trials, tribulations, and hard work.
"I went to college for computer science in 1999," Luck noted. "During my enrollment, I discovered the world of affiliate marketing, and being able to make money by discovering crappy websites on the Internet, and approaching site owners to let them know I can build a much better looking site and optimized website for the search engines. With that knowledge, I dropped out of college during my junior year to start my own business by leveraging the Internet."