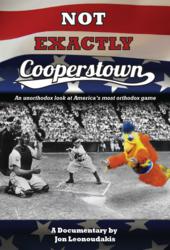 "Not Exactly Cooperstown" is not your father's baseball documentary; it's a bold stew of Americana, sex, religion, scandal, mythology, fandom, art, poetry, and sport.
Northridge, CA (PRWEB) August 05, 2012
For Immediate Release – August 4, 2012
Contact: Jon Leonoudakis, Producer/Director, "Not Exactly Cooperstown"
Phone (818) 886-2998; e-mail: jbgreek(at)earthlink(dot)net
http://www.notexactlycooperstown.com
NOT EXACTLY COOPERSTOWN
A Documentary by Jon Leonoudakis
"There are things in this game that are beyond magic, and that's what the Baseball Reliquary is about". ~ Bill "Spaceman" Lee, former pitcher, Boston Red Sox & Montreal Expos
Baseball fan and filmmaker Jon Leonoudakis had a life-long love affair with America's National Pastime until steroids snuffed out his torch. He was ready to shove 40+ years worth of baseball swag to the curb until he had a transformational experience.
"In 2002, I went to an amazing alternative baseball Hall of Fame ceremony where fans could actually vote for candidates," said Leonoudakis. "An outfit called The Baseball Reliquary staged the event, and was inducting 'Shoeless' Joe Jackson, Mark 'The Bird' Fidrych, and Minnie Minoso, 'The Cuban Comet'. Minoso hung out, signed autographs and talked baseball with attendees. Awards were given out to fans, researchers and historians for extraordinary service. The event was free and offered peanuts and crackerjack as refreshments. I found myself surrounded by people who love the game with a fervor matching my own. Not only was I back in the fold, my love for the game went another 400 miles into the stratosphere."
"The Reliquary's approach to the game is very different. It loves baseball hopelessly, but not reverentially. It's a non-profit and has no ties to Major League Baseball, which allows them to present content without political concerns. The Reliquary is a peripatetic virtual museum without a brick and mortar home, run by people who are steeped in the arts and operate it as a grass-roots, anti-establishment affair," says Jon.
"It's broad mission statement of 'fostering an appreciation of American history and culture through the lens of baseball' made it hard to describe to fellow baseball fans. So, I decided I'd spend a year in the life of the organization, see what makes it tick, and share the results", says the documentarian. Leonoudakis's film is a star-spangled journey into the heart and soul of baseball that can't be quantified by numbers. The result of this expedition is "Not Exactly Cooperstown", the first documentary to explore this eclectic, fan-based think tank founded in 1996.
""Cooperstown is for statistics, and the Reliquary is for stories and the great characters of the game,", says producer/director Leonoudakis. "My documentary is an unorthodox look at America's most orthodox game. The Reliquary looks at the human side of the game, and that means examining some very real flaws. The human factor is a big part of what makes the game so great. "
The filmmaker says "Not Exactly Cooperstown" is full of surprises. "This isn't your father's baseball documentary", says Jon. "My film is a bold stew of Americana, folklore, sex, religion, scandal, fandom, poetry, sport, and art.
Interviews with a cavalcade of experts, fans, free-thinkers, and non-conformists abound: former major league pitchers Jim Bouton (Ball Four), and Bill "Spaceman" Lee, the San Diego Chicken, filmmaker Ron Shelton ("Bull Durham"), author Arnold Hano (A Day in the Bleachers), journalists John Schulian and Ron Rapoport, and David Kipen, the former director of literature for the National Endowment of the Arts.
While the Reliquary has a scholarly side, they embrace the irreverent as well. The film features a look into its fabled archive of "Curiosities and Wonderments", containing such venerated objects as Eddie Gaedel's athletic supporter and a tortilla with Walter O'Malley's face on it.
Leonoudakis opened up his own independent Hollywood studio to make the film. His company, Evzone, developed, financed, produced and will ultimately distribute "Not Exactly Cooperstown". "While I financed the project, I could not have done it without so many of my friends in the business, who donated their time", says Jon. The filmmaker also cites a small group of blood relatives as core contributors to the project. Nephew Gabriel Leonoudakis was a major graphic art and design contributor. Wife Lisa helped wrangle props, wardrobe, and a multitude of tasks and was given the credit "Gal Friday". Eldest son Matt (18) performed grip duties, daughter Katrina (20) did continuity and graphics work, and youngest child Stevie (11) has the only acting role in the film: an all-American boy opening a pack of baseball cards in 1975. "It's less about nepotism and more about lack of funding and necessity, but you can never have enough Greeks involved in a production. They're good problem-solvers, story-tellers, and have exceptional taste in wine," according to prideful Greek-American Leonoudakis.
Jon Leonoudakis has been a producer since 1985, leading teams on a diverse range of projects for clients and project partners like the Disney Theme Parks worldwide, the United Nations, Disney Cruise Lines, Pixar, Mercedes-Benz, and Universal Studios/Hollywood. He was one of the producers of the internationally-acclaimed documentary, "The Wrecking Crew", as well as producing and directing his previous baseball documentary, "5:04 p.m., a first-hand account of the 1989 World Series Earthquake Game".
"Not Exactly Cooperstown" is produced and directed by Jon Leonoudakis for non-profit/educational purposes. The documentary will have it's World Premiere Sunday, August 19 at the Pasadena Central Library at 2:00 p.m.. Attendees are encouraged to arrive in their finest baseball regalia for the chance of a special prize.
For more information, contact Jon Leonoudakis at 818-886-2998 or jbgreek(at)earthlink(dot)net. Web site: notexactlycooperstown.com