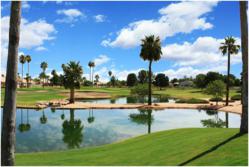 Sun Lakes, AZ. One of the best kept secrets in the greater Phoenix East Valley. Beautiful homes, no bidding wars and prices poised to rebound.
Sun Lakes, AZ (PRWEB) August 09, 2012
Sun Lakes, AZ is one of Arizona's most highly rated active adult communities and a favorite of both full-time residents as well as winter residents from around the United States and Canada.
Like every community in the Phoenix metro area, Sun Lakes has suffered a decline in real estate values of about 50%-60%.
Since the beginning of 2012, the Phoenix area has seen a rise in real estate values of between 25%-35%, however that appreciation has not yet been seen in our active adult communities.
Active adult communities in the Phoenix area typically trail the real estate trends of the rest of the valley by about a year. In Sun Lakes, the market peaked in February of 2007 and has lost value ever since, but the signs of recovery are beginning to emerge in the form of declining inventory.
Declining inventory has spurred the rising prices in the Phoenix area and if inventory continues to decline in Sun Lakes, home values will begin to rise following the supply/demand theory.
This is great news for sellers in Sun Lakes, AZ and should serve as a warning to buyers that home prices are probably as low as they are going to get.
Buyers who are getting beat out during bidding wars on homes in the Valley might want to consider a home in an active adult community if they fit the criteria age criteria with varies from community to community.
Sun Lakes is less than a mile from Intel's Ocotillo plant and would be the perfect spot for employees that are going to be working at the facility as Intel expands. Workers at Orbital Sciences, PayPal and several other corporate sites may be missing the best kept secret in the East Valley by not considering Sun Lakes as an option when looking for a home. Not only is the location perfect, there's the opportunity to get in at the rock bottom prices just before values begin to rise.
The community offers a country club lifestyle with 7 golf courses, swimming pools, restaurants, clubhouses, fitness centers, tennis courts, walking paths and activities galore. There are dozens of clubs focused on sports and interests. And, Sun Lakes is not just for retirement. Social groups like the 40s and 50s clubs offer working professionals an opportunity to meet others in their life stage with a variety of activities and outings. Three of the communities are guard-gated.
Located minutes away from the Chandler Fashion Center Mall, and major high tech companies like Intel, Sun Lakes provides convenience and a comfortable lifestyle. With upscale shopping plazas, a community college campus, public library, a variety of restaurants, boutiques, spas, professional and health care services providers. Nearby, the Arizona Cardinals, Phoenix Suns, Arizona Diamondbacks, and Phoenix Coyotes provide a diverse sporting selection of live event games.
Sun Lakes' proximity to Phoenix Sky Harbor Airport and Phoenix-Mesa Gateway are also attractive amenities for out of state vacation home buyers. And, because Sun Lakes is an unincorporated municipality, its residents also enjoy a low tax base.
The inventory of homes for sale in Sun Lakes typically falls during the summer months as sellers take their homes off the market as buyer activity decreases due to the heat. Inventory begins to rise in early Fall as winter visitors return to the valley and sellers take advantage of the higher buyer activity.
The record low for the number of Active Listings was recorded in 2005 with 27 homes for sale, or less than a month's worth of inventory. This triggered a steady rise in sales prices until February of 2007 when Sun Lakes registered its highest median sales price of $320,000 which is also about the time Sun Lakes recorded it's highest inventory to date at 26 months worth of inventory with 353 homes for sale.
As the market became saturated with too many homes to sell and the resulting longer time frames it took to a home to sell, the seller's market transformed into a buyer's and our median sales prices plummeted.
We have seen a steady decline in inventory since January 2007 and as of today there are 86 single family homes currently for sale in Sun Lakes.
With inventory approaching the record lows, is Sun Lakes is poised to finally see home prices begin to rise. Buyers who discover this gem of a community in the East Valley will be smiling today as they get in on what appears to be the "bottom" of the real estate market in Sun Lakes, AZ.
That bottom may not last long and sellers will finally be smiling again as values begin to rise.
The Amy Jones Group is a top producing Real Estate Team who live and specialize in Sun Lakes real estate. Search Sun Lakes homes for sale
Amy Jones, REALTOR
The Amy Jones Group, RE/Max Infinity