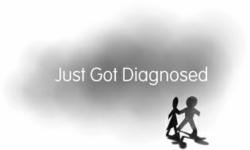 Micromanaging loved ones can leave the patient feeling disempowered, as if everything you do or say is somehow connected to their diagnosis.
New York, NY (PRWEB) August 07, 2012
Dr. Gary McClain today released a new article, "Do you see me or do you see my diagnosis? How to deal with the worriers and the micromanagers in your life," for individuals facing chronic medical conditions such as diabetes and arthritis. A specialist in the emotional and spiritual impact of chronic and catastrophic illnesses, Gary McClain, PhD, developed JustGotDiagnosed.com to address a serious need he saw going unfulfilled; namely, a way for newly-diagnosed patients to receive help in coping with their emotional reactions to their diagnosis. Dr. McClain also blogs on the patient social networking site, http://www.AllianceHealth.com.
"According to McClain, "There are people in the patient's life who are going to take the diagnosis in stride, and relate as they always have though, at least initially, with a little too much concern about how the he/she is feeling physically and emotionally. Often this is temporary, and just requires some patience and reassurance from the patient as they adjust to the news, not unlike the adjustment process that the patient has gone through. And then there are those who for some reason can't seem to move past the diagnosis. As if everything the patient says or does is somehow connected to it."
McClain emphasized that when loves ones attempt to micromanage the patient, it is often motivated by a sense of helplessness. "Their concern can be the result of feeling like they need to fix or take care of the patient and not sure how to do it. They want to help and they feel helpless. And so they may try to make their own helplessness go away by trying to manage the patient's life. In other words, projecting their own helplessness onto the patient."
McClain recommends that patients maintain control over their self-care by following these guidelines:
1. Be a role model. Patients can show that they are dealing with the diagnosis by taking good care of themselves. Actions speak louder than words.
2. Try some "patient" education. Patients can encourage loved ones to ask questions. And giving them information so that they will have a sense of what the patient is facing.
3. Look for teachable moments. When loved ones say or do something that shows lack of understanding or insensitivity, or treats patients as if they can't take care of themselves, patients can use that moment to gently let loved ones know how their behavior makes them feel. Some humor can help.
4. Be your authentic self. Patients can let the people they are closest to know when they are having a day when the challenges of life, including but not limited to their diagnosis, are just plain frustrating. And then allow loved ones to be supportive, as they have been in the past.
5. Be gentle, but firm. Patients can set limits by letting the people in their lives know that they are taking responsibility for their health, that they appreciate their concern, and that they will let them know if they need their help.
McClain cautioned that patients should be optimistic but not expect micromanaging loved ones to change overnight. "We can't control how other people choose to think or feel or behave. To assume otherwise is a losing proposition. People come around in their own way and in their own time."
About Dr. Gary McClain and http://www.JustGotDiagnosed.com
Dr. Gary McClain is a therapist, educator, life coach and author who specializes in working with individuals who have been diagnosed with chronic and catastrophic medical conditions, focusing on issues that include coping emotionally, gathering information, making lifestyle and treatment decisions, managing relationships, and communicating with healthcare professionals. As "Dr. Gary," he blogs on patient social networking boards on http://www.AllianceHealth.com. Founded and developed by Dr. McClain, JustGotDiagnosed.com offers information, guidance and inspiration for newly diagnosed patients, their caregivers, and healthcare professionals. His program for newly-diagnosed patients, Prepared for the Road Ahead ™, is focused on the emotional, lifestyle management, communications, and vision for the future. Visit http://www.JustGotDiagnosed.com.