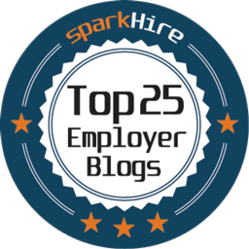 We created this list so employers know where to turn for HR thought leadership when the going gets tough. - Josh Tolan, CEO of Spark Hire
Chicago, Illinois (PRWEB) August 09, 2012
Employers struggling to find the best talent in a job market inundated with 12.7 million unemployed workers can now turn to Spark Hire's (http://www.SparkHire.com) new list of the Top 25 Must Read Blogs For Employers. The list contains the best blogs for insight, advice, and meaningful discussions from some of HR's great thinkers.
"It's not just job seekers who are agonizing over job placement in our difficult economy. Employers are finding it difficult to fill vacant positions within their companies, too," said Josh Tolan, CEO of Spark Hire. "We created this list so employers know where to turn for HR thought leadership when the going gets tough."
Spark Hire's Top 25 Must Read Blogs For Employers is comprised of some of the best online resources that can help employers staff their companies with the right candidates. From social media sourcing to video interviewing, Spark Hire's centralized list has employers in need of cutting edge recruiting and HR advice covered.
All blogs included on the list have the option to display a 'Top 25' badge on their page, indicating their status as a premiere destination for employers looking to hire the best talent. Employers can now know at a glance that they're reading Spark Hire approved recruiting and HR insights.
"We saw such great success with our recent release of our 'Top 25 Must Read Blogs When Looking For a Job' that we knew we had to assist employers in a similar fashion," Tolan remarked. "Big or small, sometimes all employers need help in the recruiting and HR disciplines. With all of these blogs conveniently together in one list, employers can save time scouring the Internet for helpful information and instead focus on the bottom line."
Click Here to See Spark Hire's List of the Top 25 Must Read Blogs for Employers
About Spark Hire
Spark Hire is a video powered hiring network that connects job seekers and employers through video resumes and online interviews. By integrating video screening and video interviewing into the hiring process, Spark Hire bridges the gap from the initial application to the final hiring decision by providing job seekers with a better way to stand out and employers with a more efficient way to identify top candidates. For more information, please visit SparkHire.com.