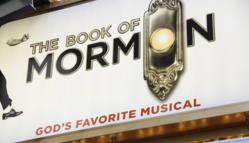 This musical is fun to watch, despite all the controversies that it has given birth to
New York, NY (PRWEB) August 04, 2012
Cheap Concert Tickets has an impressive inventory of The Book of Mormon tickets available for sale. This award winning production will begin a traveling tour in August, 2012. If you are fortunate enough to reside in one of the cities that "The Book of Mormon" is visiting, make sure to reserve your seats now before all the good seats are picked over. Add code MORMON for special savings at http://www.cheapconcerttickets.me on any ticket order.
The Book of Mormon originally opened at O'Neill Theatre in New York City on March 24, 2011. The Book of Mormon" is a unique directed by two brilliant and capable directors named Parker and Casey Nicholaw who took every aspect of the Broadway production very seriously. From the selection of cast to the composition of the music, every small detail ended up being worked on until it was right. The book of Mormon describes the story of two missionaries who stumble upon an Ugandan village. The finest quality of the musical is the unusual way in which three distinct topics, Religion, AIDs and The Lion King have been brought together. The mockery of these topics enables the musical to offer plenty of laughter to spectators. The directors wanted "The Book of Mormon" to put forward some cynical and at the same time some hopeful material that could have a long lasting impact on the audience.
"The book of Mormon," like other Broadway musicals, has attracted a large amount media attention and coverage. Nonetheless, the Church of Jesus Christ of Latter Day Saints issued this statement: "The production may attempt to entertain audiences for an evening, but The Book of Mormon as a volume of scripture will change people's lives forever by bringing them closer to Christ."
One critic, Charles McNulty, has given varied remarks about the musical. According to him, the boldness and audacity that this musical portrays can only be expected from the maker of "South Park: Bigger, Longer & Uncut." Despite the newness of musical compositions and storyline, the musical still sometimes gives a feel of old-fashioned and familiar comedy that you have been used to since your childhood. Several newspapers and magazines have honored the production by describing in words like "pleasure-giving" and "humorous." Ben Brantley who is a highly respected theatre reviewer had these words about the production, "And for combining polish, enthusiasm and individuality, the ensemble is the best in a musical since Susan Stroman's team for "The Producers."" A Hollywood reporter said that after attending this Broadway musical, you have the opportunity to serve your inner soul with the original and fresh music. The sweetness of the show is what makes it distinct and apart from other musicals.
"The Book of Mormon" is presented in more of a classical mode. The unique aspect of this play is that it matches the fantasies of The Lion King, idealization of religion and spiteful reality. Though several people rose their eyebrows over the musical's attempt to scoff at religion, numerous patrons have praised the true boldness featured throughout the Broadway show. The enjoyable music was written by several talented names including Parker, Stone, and Scatological. According to Parker when you try to present the attitudes of society, it becomes very difficult to convince religious devotees. They leave no stone unturned to give you reasons of warlord's threatening warning to the women of the village.
The sets and complete stage interior turned out to be phenomenal after long hours of exertion and hard work. This musical is fun to watch, despite all the controversies that it has given birth to. The appearance of actors and actresses is also stunning as they seem to be well trained for their role in this musical. Th costumes have been designed to match the bold theme of the musical and they also enhance the interest of the audience in the story of the show.
The schedule for the traveling production of "The Book of Mormon" is:
Denver, Ellie Caukins Opera House August 14 to September 2, 2012
Los Angeles, Pantages Theatre - CA September 5 to November 25, 2012
San Francisco, Curran Theatre November 27 to December 30, 2012
Portland, Keller Auditorium January 1 to January 6, 2013
Seattle, Paramount Theatre - WA January 8 to January 20, 2013
Des Moines, Des Moines Civic Centr January 24 to February 2, 2013
Minneapolis, Orpheum Theatre - MN February 5 to February 17, 2013
Chicago, Bank of America Theatre December 11 to March 17, 2013
Saint Louis, Fabulous Fox Theatre - MO February 19 to March 3, 2013
Rochester, Rochester Auditorium March 5 to March 10, 2013
Detroit, Fisher Theatre - MI March 12 to March 24, 2013
Pittsburgh, Benedum Center March 26 to April 7, 2013
Boston, Boston Opera House April 9 to April 28, 2013
Buffalo, Sheas Performing Arts Center June 11 to June 16, 2013
Get discounted The Book of Mormon Tickets at Cheap Concert Tickets. Our customer service desk is open daily from 7 a.m. to 1 a.m. EST. We also have Wicked Tickets and Lion King Tickets for sale at great everyday low prices.