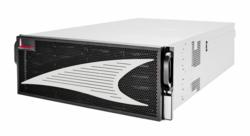 The Starboard MAST™ architecture delivers SSD performance within cache reducing hard disk drives needed by up to 80% for consolidating mixed application workloads.
Broomfield, CO (PRWEB) August 06, 2012
Starboard Storage Systems™, the leader in hybrid storage for modern application workloads, today announced the results of a report from Storage Switzerland, which states that Starboard Storage delivers true hybrid storage providing a single storage system that meets the performance and budget demands of the modern data center.
Starboard AC Series™ storage systems simplify the deployment of hybrid storage systems and deliver high performance with lower total cost of ownership for the storage infrastructure of Small and Medium Enterprises (SME). Additionally, the Storage Switzerland report states that the limitations that unified storage systems may face can be eliminated upfront by a hybrid system.
"We're impressed with the product that Starboard Storage is bringing to IT customers," said George Crump, Lead Analyst at Storage Switzerland. "SME need storage solutions that are less complex and are easy to deploy yet still provide top performance, in order to meet the demands of their expanding data centers. They are increasingly looking for one storage system that supports a mixed workload of applications, environments, protocols and media. True hybrid systems, such as Starboard Storage's, deliver on the goal of creating such a system."
Analysis of Hybrid SSD Storage vs. Unified Storage by Storage Switzerland can be downloaded from the Starboard Storage Systems Website http://www.starboardstorage.com
IT environments need to support modern application workloads which can include structured, virtualized and structured data. Using multiple SAN and NAS systems to isolate workloads results in stranded storage capacity, silos of specialized storage, high storage costs and unnecessary complexity. Legacy unified storage systems have up to twenty-year old outdated architectures which rely on the limitations of RAID groups. They are essentially disparate block- and file-based storage operating systems, multi-protocol gateway appliances and protocol layering cobbled together. This results in hindered performance and higher cost and complexity for storing mixed application workloads. An enterprise storage system capable of consolidating multiple workloads for SME can reduce management overhead, while increasing utilization. Starboard AC Series storage systems designed for high performance eliminates undesired silos of storage with full multi-protocol support including CIFS, NFS, iSCSI and Fibre Channel.
"Our customer's want to simplify their operating environment affordably and take advantage of solid state performance," said Karl Chen, chief marketing officer at Starboard Storage Systems. "Unlike legacy unified storage systems that add spindles to increase performance, the Starboard MAST™ architecture delivers SSD performance within cache reducing hard disk drives needed by up to 80% for consolidating mixed application workloads."
Starboard Storage Hybrid Architecture: The Starboard Storage AC45™ and Starboard Storage AC72™ are designed to provide a balance of performance of solid state drives with the capacity of SAS drives. The SSD Accelerator Tier™ virtualizes solid state resources and provides performance as a utility to multiple applications by utilizing intelligent caching and autonomic data movement. The 5% of active or "Hot Data" is kept autonomically within flash while the 95% of data at rest stays on affordable hard disks. The SSD Accelerator Tier is uniquely optimized to boost performance for both reads and writes and handles the dynamic requirements of unpredictable application workloads delivering performance on demand without dedicated storage administrators scripting complex storage tiering policies.
Starboard Storage's hybrid storage capacity is tuned for each workload. Administrative complexity is cut by eliminating the concept of RAID groups. With the AC Series there is no complex RAID group setup or management, no meta-LUN management, no protocol layering, no lengthy re-builds or re-striping and no need for system re-boots and manual data layouts.
The AC Series' capacity can be expanded on-the-fly with automatic load balancing across new drives as they are added. Drive speeds and capacities can be mixed and matched within Starboard Storage AC Series. Performance and capacity are expanded as drive shelves and drives are added. The AC72 provides up to half a PB of storage. Both AC Series platforms feature an all-inclusive licensing model that includes thin provisioning, replication, snapshots, clones and space reclamation.
Starboard Storage Systems distributes its products through a network of high impact value-added reseller partners that share the goal of bringing hybrid storage solutions to market and into SME companies. The Starboard Storage AC72 and AC45 Systems are available now. For more information contact sales(at)starboardstorage(dot)com
About Starboard Storage Systems: Starboard Storage tackles the toughest storage problem facing Small and Medium Enterprise IT administrators today — managing today's application workloads that include unstructured, virtualized and structured data. Starboard Storage AC Series delivers on the promise of sophisticated yet easy-to-manage hybrid storage for multiple application workload environments. Starboard's Dynamic Storage Pool™ and SSD Accelerator Tier deliver industry leading performance for less. For more information, please visit http://www.starboardstorage.com Follow @Starboardstorag on Twitter: http://twitter.com/starboardstorag.