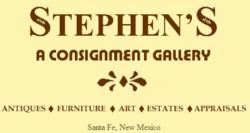 Santa Fe, New Mexico (PRWEB) August 05, 2012
Longtime Santa Fe, New Mexico, business, Stephen's A Consignment Gallery, the largest and oldest consignment gallery in the 'City Different' specializes in marketing consigned art, furniture and other pieces from their store location at 2701 Cerrillos Road. The company is known for having a discerning eye for excellence and for doing a particularly good job marketing pieces consigned to them. 'The Greg LaChapelle Collection Estate Sale' is from 9 a.m. to 1 p.m., Fri., Aug. 10, 2012 and 9 a.m. to 10 p.m., Sat., Aug. 11, 2012 and is set to take place at # 7722 Old Santa Fe Trail, Santa Fe, New Mexico. Stephen's a Consignment Gallery is a featured business on Hutton Broadcasting radio stations and SantaFe.com.
Antique tribal arts, art and a variety of other items available at this sale are as follows:
Greg LaChapelle; Artist:

Petroglyph Art
Sand Paintings
Garden Rock Sculptures
African:

Masks
Hut Posts
Implements / Tools
Shields
Helmets
Daggers
Gourds
Figured Carvings
Money
Anklets
Weavings
Ladders
There are many multiples of the above listed items.
The Unusual:

Indonesian Dragons
Vintage Circus Banners
Antique Gas Pimp Globe "Crown"
Indo Chests
Mexican Michoacan Chairs
Pre-Columbian Ceramics
Vintage Kilims / Weavings
Retablos
Doors From:

E. India
Afghanistan
Africa
Hanging Moroccan Beds
Workshop:

Hand tools
Masonry Core Drill & Bits
Power Tools – Rotary Hammers,
Drills, Chainsaws, Grinders,
Sanders, Saws and more
Lg. Tank Compressor 220 amp.
Lg. Metal Work Tables
Putzmeister – Gipsomat Mixer
Floor-belt Sander
Radial Arm Saw
55gal. Pumper
Drafting Table
Airbrush Equipment
Compressors
Plus:

Vintage Metal Patio Furniture
Wall Art
Metate / Manos
Toyota Pickup Truck
Ford Pickup Truck
Trunks
Directions: #7722 Old Santa Fe Trail -
Take Old Las Vegas Highway to El Gancho, go Left. Turn right onto Old Santa Fe Trail, go 3.5 miles (it seems longer than it is). Parking is allowed on one side of street only. Please walk in or take Stephen's Shuttle Service.
About Stephen's A Consignment Gallery:
We reserve the option to decline anything we feel is not saleable. Items should be cleaned and polished and not chipped or broken. Our knowledgeable staff will determine prices with your approval. We welcome any information you have regarding the age and original cost of the item so we can be as fair as possible to you and your customer. Sold consignment items proceeds are paid once a month via check and list of items sold are mailed to the consignor. Stephen's Consignment Gallery can help you make arrangements for delivery or pick-up of furniture or other items for sale. Fees paid for delivery or pick up varies depending on quantity and distance. It is recommended that sellers make an appointment to consign items. Please call ahead to let us know which day you plan on coming to our store to consign your items.
Contact Information:
Stephen's A Consignment Gallery
http://stephensconsignments.com
(505)471-0802
About SantaFe.com:
SantaFe.com provides locals and visitors to Santa Fe alike the most current interactive platform for events, music, arts, business, dining and lifestyle. SantaFe.com is a division of Hutton Broadcasting, located at 2502 C. Camino Entrada, Santa Fe, NM 87507
Contact Information:
Scott Hutton
SantaFe.com / Hutton Broadcasting
http://www.santafe.com
(505) 471-1067 (Media inquiries only, please)